March Open House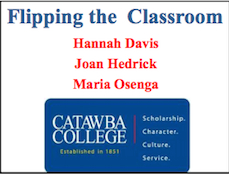 Hannah Davis, Writer
March 25, 2014
Hang on for a minute...we're trying to find some more stories you might like.
This past Saturday the weather was perfect and many prospective students on campus were visiting for the Campus Experience Day. It was the perfect day to visit since the Catawba students were enjoying the day on the grass sunbathing or taking walks though the preserve.
One of the most interesting things prospective students get to do at experience days is something called "Taste of Catawba." These events range from learning about Catawba's First Year Seminars to learning technique like flipping the Classroom. The flipping the classroom "Taste of Catawba" event showed prospective students the learning technique where students learn the subject before class and then teach the classroom with guidance from the professor instead of a lecture style way of learning. An attendee of this session, Lexington High School teacher Barbara Pendergrass, was thoroughly impressed by the expertise of the students teaching the session. Several Lexington High School students were able to travel with Mrs. Pendergrass and their school to visit Catawba for the Open House.
The Catawba students were especially excited about the delicious food in the cafeteria and the prospective students were excited about the food being complementary. The prospective students also had the opportunity to tour the campus and get to visit the freshman dorms. Finally, Open Houses at Catawba allow prospective students to get the amazing opportunity to meet with faculty and staff in the areas they are thinking about studying.