The Importance of Security and Fire Safety Reports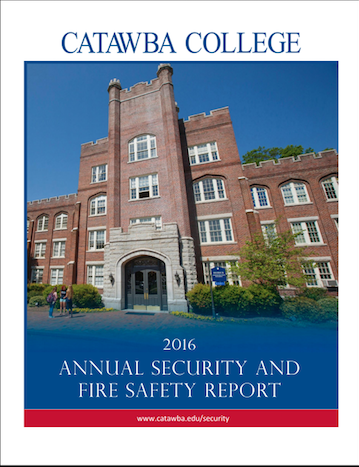 Caroline Turner, Writer
February 20, 2017
Hang on for a minute...we're trying to find some more stories you might like.
The Jeanne Clery Disclosure of Campus Security Policy and Campus Crime Statistics Act of 1990 (Clery Act) requires that security and fire safety reports are sent to students at school. This report shows any criminal act from robbery, to rape, and to how many fires have been on campus each year. It includes the statistics from past years so that students can see the differences in the number of robberies and fires that have been on campus. Also, this report shows where on campus, or off campus, these incidents have occurred.
The report sent out to students of Catawba College has an ample amount of information students need to know to stay safe. It informs students about emergency response plans, types of emergencies, and steps of prevention. It also gives definitions of different types of crimes and Catawba College's policies on situations like bullying, stalking, and violence.
On this year's security and fire safety report it shows the statistics from 2013 to 2015 and decrease or increase of crimes like robbery, burglary and sexual assault crimes. According to the report, there has been a major decrease in burglary from 2013 to 2015. This is likely because public safety has increased their security and has taken precautions to prevent burglary in the past few years. The report also shows an increase in judicial referrals for underage drinking. While this may seem that more students are underage drinking on campus, it could also show that public safety is taking the issue more seriously in the hope that the referalls will cut down the underage drinking on campus.
Our public safety staff works hard trying to keep our campus, students, and faculty who occupy it safe. By making student's keycard only able to open their dorm and taking other safety precautions, we are cutting down the crimes on campus and we have the statistics to show it. Cutting crimes down to nothing is a pretty difficult task, but with the aid of these prevention steps and security reports, students can help reduce these number down even more.