What does it take to get a bunch of college students, alumni and faculty together and celebrate a great time? Catawba College's Homecoming of course! This year's homecoming was one for the books! The food prepared throughout the week was fantastic, the football game was a thriller and the environment was positive the entire week! The current students even had fun participating in the Lip Sync battle centralized around early 2000s music. Helen Foil Beard had their annual Homecoming tailgate in the student center while the DASausage Fest was held between the Ketner parking lot and the volleyball court. Students gathered around, ate some cotton candy provided by Helen Foil Beard and devoured some juicy bratwursts and hot dogs grilled by the students in DAS.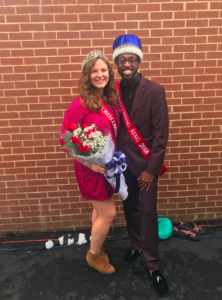 While students were stressing over the football game, six individuals were stressing over who would become Homecoming King and Queen. Dustin Chapman, Ethan Davis, Lee Brackman and Jalil Pack represented the male candidates. Malissa Giannetti, Molly Sue Harmon, Jacey Voris and Emily Hofler represented the female candidates. Last year's King and Queen, Deep Dave and Roslyn Perkins, went out to the field and crowned the new King and Queen, Jalil Pack and Emily Hofler.
Then came the football game that would leave the Catawba students in tears of joy and celebration. Catawba was trailing conference rival, Tusculum, 30-21 at the beginning of the final quarter. The Catawba students continued to cheer on their players boosting the team's confidence. Catawba did not disappoint as they rallied back and scored five fourth-quarter touchdowns to give them the victory 55-37. This was Catawba's first conference win of the season and put the cherry on top of this year's Homecoming.
Zachary Burhans