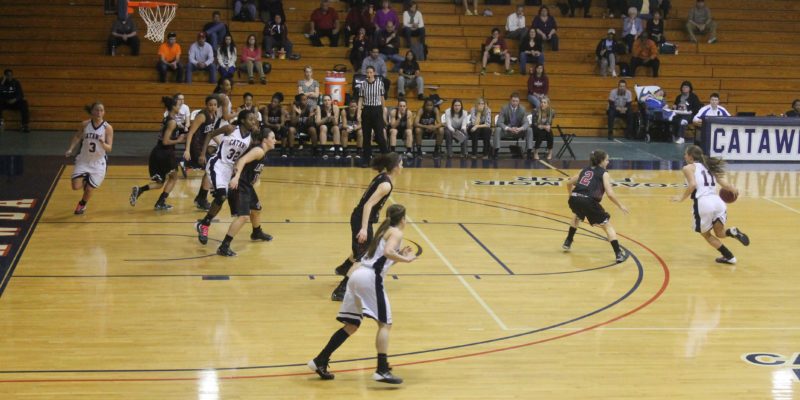 The Catawba Indians women's basketball team fell to Lenior-Rhyne last Wednesday night 62-55. The Bears would get off to a fast start as they got the opening tip off and started out scoring the first 4 points of the game. They would take a 7-2 lead to start. Catawba would get back in the game and make it 7-4 after two free throws by Emma Ucinski. After the free throws, the Indians would continue their strong push to try to take the lead and they would after a 3 pointer by Chloe Bully and free throws that were made by Ucinski would give Catawba a 9-7 lead.
After the 9-7 lead that Catawba accumulated, the game would go back and forth scoring with each team trading baskets. The turning point in the first half for the Indians would come at the 10:27 mark when Chloe Bully would get a 3 point play "the old fashioned way," to give the Indians a 20-15 lead. Lenior-Rhyne would fight back and finish the first half outscoring the Indians 11-9. The Indians would still lead at halftime 29-26, despite the strong push by Lenior-Rhyne at the end of the half.
In the second half, Lenior-Rhyne would come out just as strong as they finished the first half. The Bears would score the first basket of the half, making it 29-28. Lenior-Rhyne would then take the lead after a foul by the Indians while the Bears were shooting a 3 pointer. This fould would give Lenoir-Rhyne 3 free throws and they would make 2 of them to give them a 30-29 lead. Lenior-Rhyne would start the second half on a 15-2 run. Catawba junior Mallary Clay tried to help the Indians come back, closing the gap with a 3 point play to make the score 51-48 in favor of the Bears at the 4:11 mark. That would be as close as the Indians could get as the final would be 62-55 Lenior-Rhyne.
The Indians were led in the loss by junior Chloe Bully who had 12 points and by sophomore Emma Ucinski who had 11 points. Antionette McPhail led the Indians in rebounding with eight along with Chloe Bully who had six. Bully and McPhail also led the Indians in the assist department with two each.
The Indians next play on Wednesday night on the road against Queens at 6 P.M. Their overall record is now 13-11 and their conference record is now 11-9 after this loss and a 47-44 win against Brevard this past Saturday.
catawbapioneerstaff