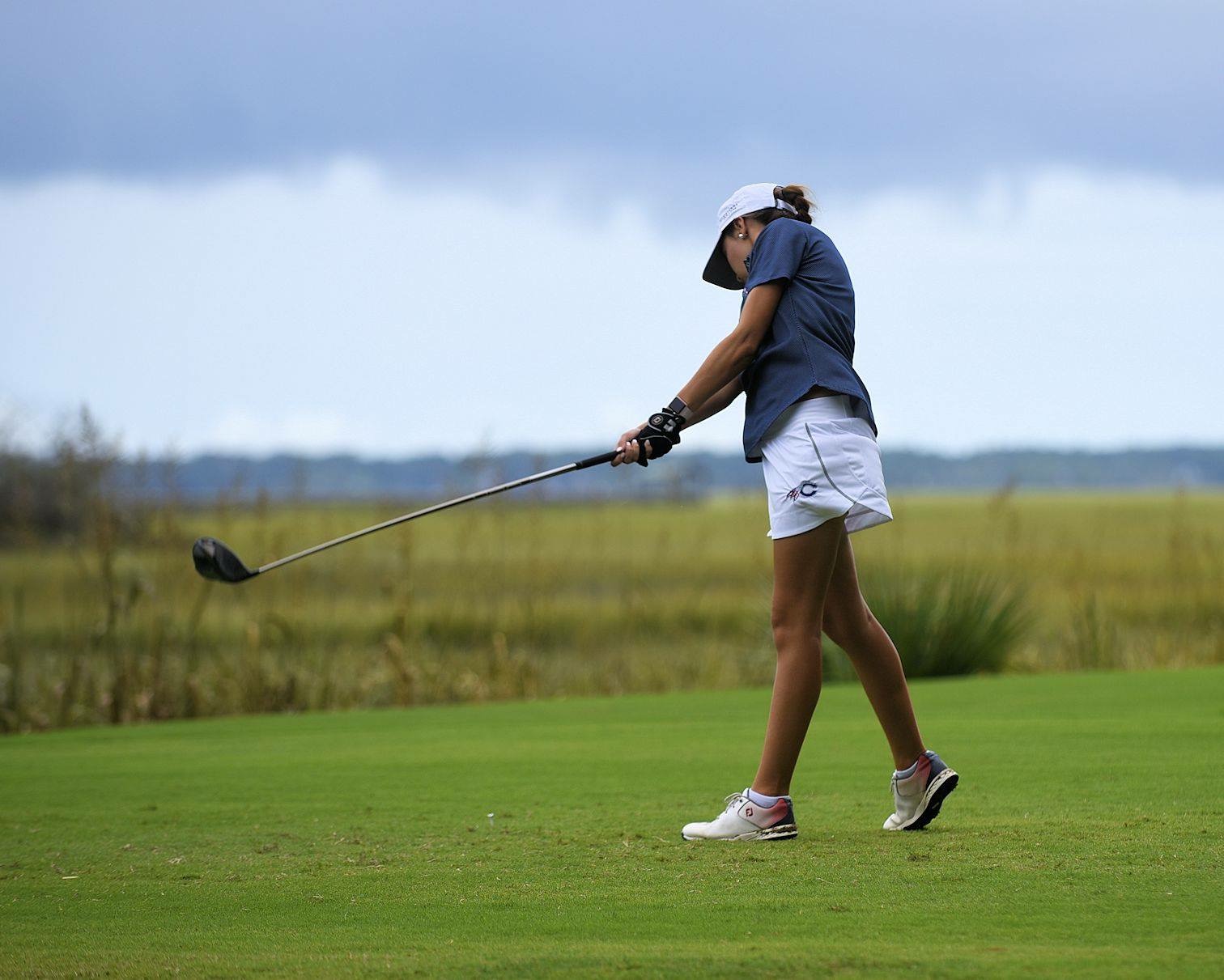 By Maurice Jones 
When most people think of college athletics, women's golf is not the first sport that comes to their minds. Football and basketball are typically the most followed college sports. This is also true for Catawba College, but the 2018 Catawba women's golf team is looking to change that notion.
In recent years, the Catawba College women's golf team has not done a lot of winning. There have been good solo performances in tournaments, but there has not been a team win since October of the 2006 season.
Junior, Kaley Barts, believes that this year the drought will end. "Usually we have one or two really good players that score really well. Now I feel like we have a solid team and everyone can shoot really well. I'm looking at the bigger picture now and I hope we can set some more Catawba records," says Barts. She also said that the team does feel a lot of pressure but she believes they can do it.
Luckily this year the team is off to a good start. The team placed second out of nine teams at the Anderson Invitational on September 10 and 11, where Junior, Sarah Coltrane, earned All-Tournament honors with a fifth place finish. "Other teams didn't even think we could get there. Teams were telling us congrats for getting this far. It was like they were looking down on Catawba," says Barts.
At the Battle of Old South on Sept 22 and 23, they only placed eighth out of 17 teams, but they were able to break the record for lowest team score for one round in Catawba College history with a score of 299. According to Barts, the team's best golf is yet to come because they could have played a lot better. Junior, Sandra Brink, said "I was honestly more excited about the school record than the second place finish because we played a lot better." Barts added that the tournament was bigger and there were more top schools participating like 15th ranked Lee and fifth ranked Florida Southern.
At the Rendleman Invitational on October 8 and 9, the team finished 10th out of 18 teams, but Barts was able to finish 10th overall and finished with a score of 145. Coltrane, who led the entire field with 10 birdies, placed 13th with a score of 148.
At the Noble Memorial on October 15 and 16 the team placed ninth out of 14 teams, but Barts was able to place fourth overall with a score of 146 and Coltrane finished 19th with a score of 153.
This year the team has three returning juniors—Kaley Barts, Jamie Cassell, and Sarah Coltrane joined by Sandra Brink, who transferred from West Virginia Wesleyan, and Freshman Hailey Barajas.
Barts believes that the two new golfers to the team this year can be really good for them. Brink placed higher than Barts at the first tournament of the year. Brink was named All-Conference her freshman and sophomore season at West Virginia Wesleyan. When asked about her decision to come to Catawba, Brink says it was time for a change. "Catawba seemed like a better place for golf and I was ready for a new opportunity," says Brink. She also said that she enjoys being around the team because they put in so much work and she hopes that all her conference performances will translate to Catawba.  
Barts also thinks that the other two returning juniors and she have shown major improvements. "I've been playing pretty stable. Sarah and Jamie have both put in a lot of work this summer and they are both shooting in the 70s, so I am excited to see what happens," says Barts.
During her sophomore season, Barts was able to put her name in the Catawba College record books multiple times. She has the record for overall low round, low tournament for a sophomore and best stroke average by a sophomore. When asked how she felt about being in the record book, Barts says, "It feels pretty dang good to be honest. I didn't know I could be this good, so it's a really amazing feeling to know that I put in all this hard work over the past four years and I am finally at a place that I feel confident."
Barts believes now that fellow junior, Coltrane, has had a taste of success she will be very motivated. Barts says that "she is a very competitive person." Coltrane finished the best out of the team in the first two tournaments this season. Barts also says that junior, Jamie Cassell, although dealing with a shoulder injury, is playing a lot better this season as well.
As the fall season comes to an end, the Catawba women's golf team has shown progress. Hopefully they can take some of this momentum into the spring and place first as a team.
catawbapioneerstaff