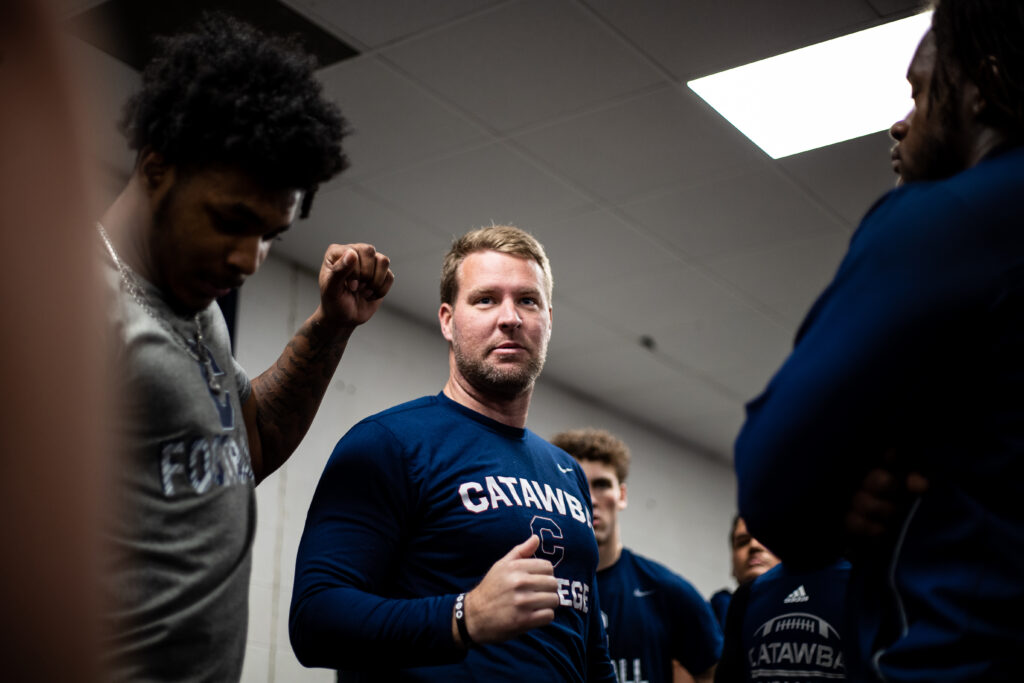 After a 1-10 2022 season, Catawba football is under new management. Catawba hired Tyler Haines as their new head football coach last December after he led a top-scoring offense last year at Shepherd College. Touted as a top recruiter and stellar offensive mind coach, Haines is coming to Catawba with a plan to bring the program back to prominence. Coach Haines lent some of his time and sat down with us to discuss his own past and the future of Catawba football.
Coach, you're coming off a really impressive year with Shepard fifth in scoring, second in total yards and seventh in passing offense. I could continue but you've got a really impressive resume in total with other schools on the division two level. With that being said, why Catawba? Thank you for that, you know, I'm grateful for all the places I've been, and the programs I've been a part of in the past. And what I've learned from each of those stops I think will help us here at Catawba. I chose Catawba because, you know, I see what has been in the past, I see the success of the 70s, 80s, 90s, into the early 2000s, and as early as 2015 we won the conference. So I see kind of, you know, the history and tradition of Catawba football. And, you know, the last couple years (at Catawba) maybe haven't been exactly what everybody is used to. So I saw it as an opportunity to bring a program back to the expectations of what the community and the university have. So, I sat down and had great talk with the President, with the Board of Trustees and the administration and Michelle Caddigan. And it just felt right when I met with everybody. Immediately after the season, we were out in Colorado Mines playing our semifinal game and I got the opportunity to fly directly here from that game and meet everybody. And it just felt right. So, good people, good place, with a lot of tradition. And that's why I picked the time.
Going back to your past experience. You were a very successful linebacker at the collegiate level and now you're an offensive coach, how did you make that switch and why? I was an average player. I maybe had some stats, but I was a high school quarterback, like a triple option quarterback. So, a running quarterback. I was recruited to play quarterback in college, then there was a change of offensive coordinators. And I didn't fit that mold. It was more of a throwing offense at that point. So I switched over. I was still a bigger guy, 6 '2' 220 pounds so I could play other positions and I had played some defense in high school as well. So they moved me over to linebacker and I stayed on that side of the ball. And you know, had a fun career. I was not an NFL caliber guy, my younger brother who is the defensive coordinator at James Madison is a 6′ 5" version and he was a multi year All- MAC performer and had a chance to play in the NFL. So I had a good career. But yeah, I switched from high school quarterback to linebacker as a player.
So a question for considering your recent offensive success and total offensive success, should we be expecting some fireworks this season? Nothing but fireworks, nothing but fireworks we, you know, we're taking a hard look at our program and our current roster. And we're giving everybody a fresh start on the current roster. I met with the entire team on Tuesday, you know, meeting with individual guys as they come in, putting a staff together. So we're doing a lot of different things. But the first thing that has got to happen is we've got to work hard, we will put a new offensive defensive scheme, and we're gonna have fireworks, but there's some things we have to do and a lot of hard work before we get to scoring touchdowns.
Along with that, you just said, what exactly is someone signing up for when they go to a guitar football game next year? You're gonna see a team take the field that has worked harder than their competition, that's more prepared than their competition, that's hungry, physical, fast, and explosive. I'm a big believer in singing the fight song to our fans after wins. So you're gonna see us take the field, win some games and, you know, look at that, you know, be proud of the team that's out there. And we'll be singing the fight song to you after the games.
How do you plan on making those aforementioned expectations reality? Day by day. Holding guys to a high standard every single day, I think we had a really good team meeting where we set the foundation of what the expectation is, expectations are here, the expectations are to go to class to do well in the classroom to live right in the community do a lot of community service events, it's, it's bigger than us individually, we need to look at it as a team, we need to look at it as in coach talk you know, be a champion every single day, every single minute of every day, there'll be bumps in the road. But we've got to do well academically and do all the community work our tails off in the weight room strength conditioning. And when spring ball comes, we've got to have a solid fifteen practices. And then that carries into the summer where you know, we don't we don't lose everything we just gained throughout the spring. The only way to become a good football program and a good football team and win games is to do things better than your opponents. So we're gonna start doing that now.
Considering the team was below .500 Last season, what do you anticipate being your hardest challenge heading into the next season? Our players don't know how to do it. You know, they think currently not all of them, but I think any team that isn't isn't winning to the level of expectations. You know, they think they're doing enough and obviously the results show otherwise. So just because you lifted just because you ran a couple 40s Just because you're going to class just because you're watching film. Everybody does that. That's not enough. You've got to take each individual player and each individual coach in this program everybody touches this program. Gotta go above and beyond what other people are doing. And I think currently, most of our guys aren't doing that, they're just doing the status quo.
So how do you plan on overcoming that challenge? Hold them to a high standard, do it. You know, I'm not going to do class checks. But one time I hear about a guy missing a class or missing a lift or showing up five minutes late to a meeting, we're going to address it, and maybe we should find somebody else. So we're not just saying words, we're, we're living by that. And it starts with the top down. But the implementation of being a good program is to be a good program. You can't say you're a good program, or you're gonna win games, and then all your actions say otherwise.
To contrast with the previous question, what do you look forward to most heading into next season?Singing the fight song to the fans. The best moment, the reason why I do what I do for student athletes for our young men is to have success in the classroom and the community. See them graduate with a high GPA in the major that they choose to get them fitted for a ring for a championship ring, you know, nothing cooler than going 13 and 2 at shepherd and getting fitted for rings and holding trophies and all that. So that's, that's why we do what we do. But me personally, what I do it for is the wins on Saturday, standing there with the guys holding our helmets high, singing the fight song to our home fans. I have three young daughters that run around the field with me, that moment is why we do what we do. And I look forward to doing it as many times as we can, it's awesome.
Another challenge Catawba football has is there's a couple of players in the transfer portal. Do you have plans to have a higher retention rate next year and then fill those holes heading into next season? Yeah, I don't think we have too many guys in the transfer portal, we have six to eight, which is typical for most college programs. And that's, I would say that's actually lower than I thought with a transition. I believe that the transfer portal is not going anywhere. So those individuals that are in the portal, I wish them well. You know, I hope they land where they want to land, we will recruit out of the transfer portal. So we're, we're good with where we stand with those guys. We wish them the best. And then the guys that you know, we're gonna go through spring, we're gonna recruit incoming freshmen to the Signing Day. And then we're gonna go through spring ball and kind of see what we have. That means I want to give everybody a fresh starting point? I'm not going into this saying, Well, this guy did that last year, that guy did that two years ago, I want to meet everybody on a fresh start. So we're gonna go through spring, give everybody an opportunity to prove where you know how they are. in the roster, and where they stand, then we'll recruit into the portal for any drastic needs that we need. Immediately moving forward. So the portals It is what it is. But I'm excited about where we are. We have a lot of work in front of us, but we will recruit transfers in summer.
You talked about recruiting. Is there any position you look in particular to target considering your coaching needs or coaching scheme? Yeah, everybody's asking me that. That's a good question for me after the spring, because again, I don't know, I went into this blind intentionally. Again, I want everybody to have a fresh start. If I try to evaluate a kid based on what he did on a previous scheme, and coached by you know, by a different person, I don't know that I don't know that I see what I need, whether he can win here or not. I want to go through this with the new staff and the spring and get our eyes on them and evaluated at that point. And then we'll go. I mean, obviously, in college football in general, I believe you've got to have the quarterback, you have to have a quarterback and an elite guy that is the leader of the team. And that's why we were good at Shepherd, Tyson Bagent is one of the best quarterbacks in the country. In my opinion, he is the best quarterback in the country. He'll be a high level draft pick in the NFL from a division two school. The team followed his (Tyler's) lead. I placed a heavy emphasis on guys up front offensive defensive line. I put a high emphasis on everybody. But what the current needs are yet I don't know. I'll know in about three months.
Staying on the topic of recruiting, what's your pitch to an athlete in the transfer portal or in high school looking at Catawba as an option to play football for next year? Be the change, this place is going to take off. You know, great schools, beautiful campus filled with great professors, great people. It's got history and tradition in the past, we're not where we want to be as we sit here right now. But this incoming class, whether a freshman or transfers is, you know, one in our rearview mirror. If you want to come to a place where there's opportunity to play early and compete for positions early. You know, are we gonna win three, four or five, seven, ten, twelve games, I don't know. But the wins are going to come and guys that jump on board with this staff, we're going to have the best staff in division two football. You want to come get coached by the best and play at a great institution like here, conference championships are sooner rather than later. So come be a part of it.
One more question. I apologize. Is there anything you think people on campus or in the general population are missing when they look at Catawba football or at you? I haven't seen Catawba football play? So I don't know. I think if I'm a community member or somebody on campus, what I see probably on the field is a one and ten team. I see a team that you know everybody has an excuse. There's injuries, there's this, that and the other things you can't control and there's some things that you can't control so I don't know what they're missing. I will say this when I go out there and spring ball and watch I'll know what we're missing but you know I want to see those crowds full packed enjoying every second of it big time games big time atmosphere, but I mean, you've got to win and you've got to you've got to be in contention to have that and when I see pictures of the stands in the way they are, what do you expect when it's one and ten but again, I keep isn't that's in the rearview mirror. So it's gonna be a great atmosphere. You know, I'm not opposed to some night games. I think the campus community and the students would love some night games here. I think that creates a great atmosphere and a great home build advantage. So I'm not opposed to that. Winning, winning feels good. And so I guarantee the students have a great time coming out and watching us win. Like I said, help us in the fight song.
With spring ball on the horizon for Catawba we should have somewhat of an indicator of how the next season may look under coach Haines. While spring football is a far different product compared to the regular season considering the nearly entire new coaching regime it should be entertaining to get a glimpse at what coach Haines and his staff has planned for the future of Catawba football. Be sure to be on the lookout for information on spring ball around campus and on the Catawba athletics website.
Davis Cuffe