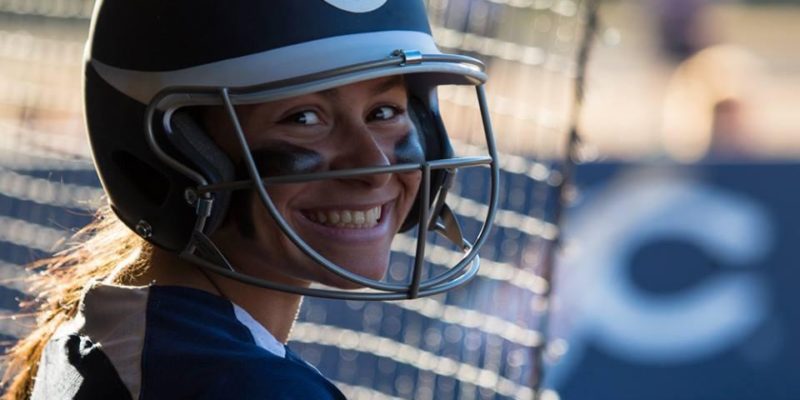 There is something special about watching a team blossom as time goes on.  As chemistry between the players and coaches begins to take shape, it turns into trust.  Once that trust develops, it can turn an average team into an above average one, and an above average team into a contender.  It may be very early in the 2014 softball season, but after a three-game weekend sweep of various teams, the Catawba Indians are beginning to take the shape of a contender.
The weekend began for the Lady Indians on Friday, as they welcomed GRU Augusta to their home field confines of Whitley Field.  Senior pitcher Emily B. Huneycutt started the game on the mound and continued the strong start to her senior campaign by allowing only one earned run in four innings.  With Catawba trailing 1-0 going into the fourth inning, All-American sophomore pitcher Carley Tysinger took over and did not look back, allowing no hits in four innings while also picking up an RBI in the bottom of the fourth to even the score at 1.  In the bottom of the eighth, sophomore second baseman Gina Gerone kicked off her stellar weekend with a walk-off single that knocked sophomore outfielder Holli Chandler in from second to give Catawba its first win of the weekend.
As action continued at Salisbury Community Park on Sunday, the Lady Indians continued to gain momentum.  In their first match-up of the day with Belmont Abbey, Gerone continued to stay hot by hitting a two-run home run in the third inning that gave Catawba a 2-1 lead that would only be extended when Chandler knocked in two more runs on a triple of her own, helping to a 5-1 final.  Tysinger came in to take the win to not only move her season record to a perfect 4-0, but also hurled 7 1/2 innings of hitless ball.
The second game of the afternoon saw the Lady Indians turn in their best performance of the weekend.  Ending their weekend against Pfeiffer, Catawba found its offensive flow throughout the game, with everything breaking open in the third.  Catawba used four runs in that inning to bust things open.  Freshman C Katherine Shumaker registered an RBI single and junior third baseman Emily D. Huneycutt drew a bases-loaded walk before Gerone and freshman SS Natalie Naturile knocked in two more runs to make it a 5-0 game.  Freshman catcher Caroline Ward then ended the contest in the sixth with a three-run shot to make it a 8-0 lead, forcing the game to end due to the eight-run rule. Pitching was also at its finest in the Pfeiffer game, as freshman pitcher Caroline Turner and senior pitcher Katie Smith combined for just the sixth no-hitter in school history.
After a huge weekend against stiff competition, teams had better be ready to play Catawba softball this season.  If they are not, then they will be in for a long game because the Lady Indians will capitalize.
catawbapioneerstaff