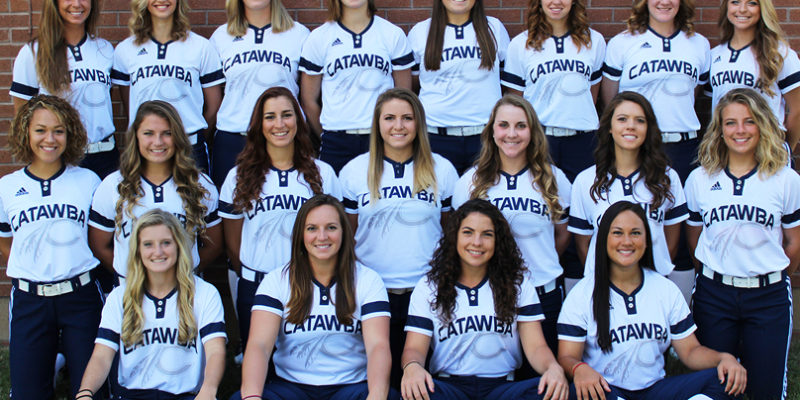 For many, a new year represents a clean slate, a reinvention, or the adoption of a brand new persona. For Catawba Indians Softball, this year will mean just the opposite. You see, last year these phenoms took the South Atlantic Conference by storm kicking off the season with a monstrous 10 straight victories. Catawba parlayed that effort into a 39 win season which featured a second straight conference championship this time over the top ranked Lenoir Rhyne bears. While the rest of the world scrambles around seeking to fulfill their status quo-shifting resolutions, the Indians softball team is hungrily in pursuit of the exact same goal. In fact, I predict that this year they will be even BETTER.
Here's why:
Before we get to the good news, we first must address the setback that could really hamper Catawba's chances of adding to their trophy case. Last season saw the wonderful careers of Gina Gerome and Carly Tysinger come to an end. These were no ordinary college athletes. Gerome finished last season tied for first on the team in home runs (9) and also led the tournament champions in RBI's with 29. Tysinger cemented her legacy as the GREATEST pitcher in Catawba history striking out a school record 413 batters and accounted for 32 of the teams 39 wins (another school record). Tysinger will actually be back this season… but this time as a member of the coaching staff. Catawba will have a huge void to fill both on the mound and at the plate. However, help is on the way.
This time around, the Indians display 6 new freshmen whose talent spreads all over the diamond. Standing at 5'7", freshman pitcher Kaylee Cook (Kannapolis, NC) is poised to take over as the future pitcher for this young ball club. She will be surrounded by Keri Faulkner (Albermarle, NC), Grace Holland (Thomasville, NC), and Caitlin Hill (Advance, NC) in the infield. Even if Cook fails to live up to her predecessors unimaginable precision in striking out opposing batters, you better believe these eager group of infielders will have their gloves ready the moment the ball comes off the bat. Freshman Taylor Martin (Salisbury, NC), a hometown hero, will take her athleticism off the volleyball court and transfer them to the outfield where both her arm and her heart will provide a big time presence to this youthful squad. We also can't forget about Nicole Hunter (Thomasville, NC) the strong right handed catcher who will focus her laser of an arm on any greedy runner looking to advance on the base path.
"Experience will be an issue," the naysayers predict. Perhaps lack of experience is how a team that won their conference championship over the number 1 team in the conference can come into the preseason only ranked 4th. While this so-called lack of experience may apply to most teams, this young group of ballers completed a fall exhibition season where they defeated Division I UNCG in blowout fashion. Call it what you want, but this team is on the brink of doing something special. They may be young and small in stature, but as sophomore outfielder Lynnsey Taylor competitively worded it, "we're small and scrappy and we're not afraid." This sentiment was echoed by senior pitcher Caroline Turner who stated that their "scrappy" team has been training really hard and suggested that this team is ready to prove the doubters wrong. If everyone stays healthy, I believe that we are looking at the next softball champions of the South Atlantic Conference. You heard it here first.
Joshua Stewart