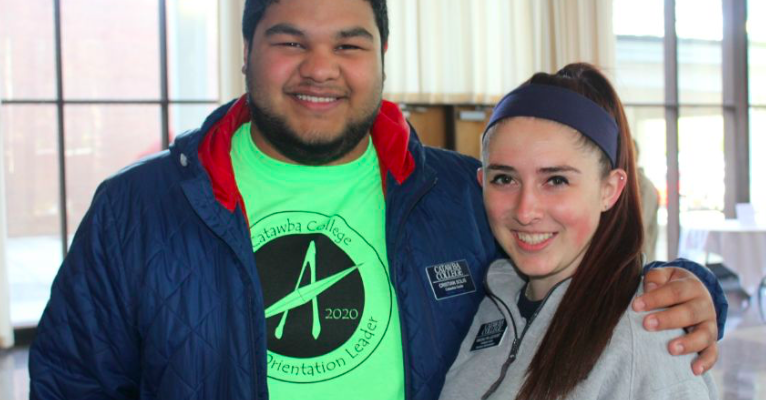 There are thousands of ways to get involved on campus, including the Catawba Guides Program. Whether it be a club, work study, or a job on campus, no student should worry about boredom on campus. The Catawba Guide program is one of the many things on campus that very few people know about. This program allows students to act as a representative for their school and show off Catawba's wonderful aspects.
The Assistant Director of Admissions and Ambassador Coordinator, Ms. Kimberly Weemhoff, oversees hiring students into the Guide Program. This program is a great way to get involved with the admissions family and allows students to express their Catawba spirit. When in the process of hiring, Kimberly looks for students who are "authentic and represent Catawba in their own way." If you look at the program and the students in it every guide is completely different, mentions Kimberly as she administers the program. They all put a unique twist on their tours and how they decide to represent Catawba.
When Kimberly attended Catawba College she was a tour guide herself. Back then, the guides had to wear uniforms, but now, the guides can wear their own Catawba gear. Her experience then was not so different from today. Kimberly states, "When I was a Guide our program had a sense of comradery but I feel that is even more so today with our group of Guides." The Catawba Guide program is not only several students representing the school in separate fashions, but it is an opportunity for friendships and ideas to flourish.
One of the newest guides, Nora McCarthy, mentions that when she first toured Catawba, the guides welcomed her and made her realize that this would be her future home. "I'm excited to be a guide because I want to provide other students with the feeling" that I had. The whole guide family always hopes to see their prospective students someday on campus as Catawba students. After all, the best part about being a guide is seeing that student come back to campus as one of our own and knowing that you were a part of making that happen.
If you would like to be a part of the Catawba Guide Program, Kimberly is looking for applicants for the Fall 2017 semester. Unfortunately, the program is losing some amazing seniors, but they are looking forward to seeing who wants to be a part of the program next year. If you have any questions about the program you can contact Ms. Kimberly Weemhoff at kweemhof@catawba.edu.
Jessica Pautz