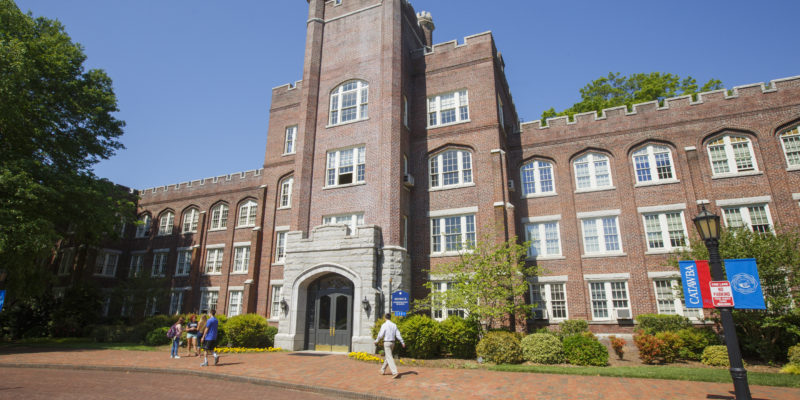 Catawba Freshman Timothy (TJ) Jeffers, is living out his college experience to the fullest! He began attending Catawba this year, starting on Catawba's varsity men's basketball team. When asked about choosing this school and his journey to finding the right college for himself, he had a lot to say. He stated that he was introduced to the coaches and the team immediately and even got to sit in on one of the practices. Jeffers was amazed that this team came up to his family and "shook my parent's hands" making them feel welcomed and inviting. He states that those actions made a huge impact in wanting to come to Catawba.
When asking Jeffers about what attracted him to the school other than basketball, he claimed the "beautiful campus" also played a role in his decision. He loved the fact that it wasn't such a big school and he could get to know his professors on a more personal level. Jeffers might be undecided with his major, but he does know that basketball is in his future, since he's been playing the sport since he was about four years old. His parents enrolled him in a church league at that age, which started the beginning of basketball for him. Being that he is the middle child of two siblings, he feels like he needs to set a role not only for his brother and sister, but also for himself. Jeffers wants to make his family proud. He stated that there was one person who he admired and looked up to very much, Coach Ron Johnson. Coach Johnson was Jeffers' high school coach who worked long hours to prepare for his team. Jeffers made it clear that Coach Johnson was always organized, prepared, and always ahead of the task. Coach Johnson would be done at midnight,  every night and wake up in the early hours of the morning to be there for his players, as stated by Jeffers. "For someone always running on four hours of sleep, he was always there for us". Jeffers' coach was a big influence on him and shaped him to play the game the way he does. This mostly has to do with the advice and the role model that Coach Ron Johnson was for Jeffers.
When asking Jeffers what he hoped to take in this year from his peers, he said that the guys on the team have treated him with nothing but respect, as well as give him advice and guidance for his Catawba College journey. He loves his classes, the size of the campus, and that everyone has welcomed him and his family with open arms since day one. TJ Jeffers has an amazing attitude and a list of accomplishments he is looking to fulfill while he spends his college years studying and playing at Catawba College. We look forward to his first game and seeing him on the court!
Kiersten Nichols