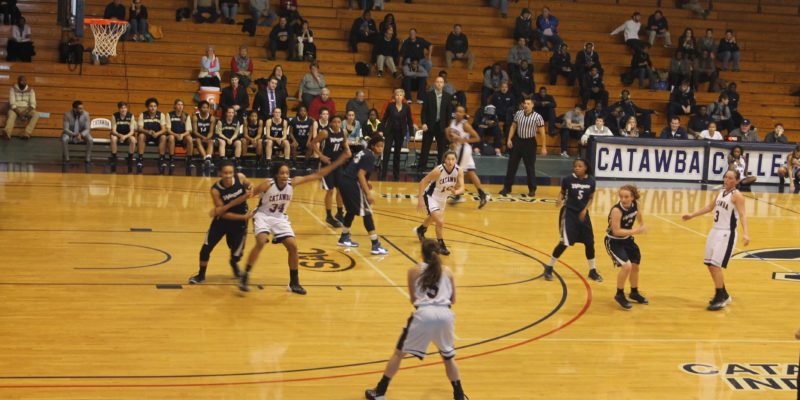 The Catawba Indians women's basketball team fell to Wingate Wednesday night 71-53. The Indians got the opening tip off and the game started out very fast. Wingate got the first basket of the game and continued on a 6-0 run before the Indians finally scored on a free throw made by junior Chloe Bully. After the free throw that was made by Bully, the Indians continued their strong push to take the lead and the Indians went on a run to make the game 8-7 Wingate and forced the Bulldogs to take a timeout at the 12:27 mark.
Catawba would continue their push to take the lead in the first half and at the 11:37 mark, the Indians took the lead, 10-8 on a made three pointer by senior Jelena Ciric. The game was close after a three pointer by sophomore Janna Dixon tied the game at 13-13. Then the Indians went on a scoring drought and did not score another point in the first half. The halftime score was 27-13 Bulldogs.
In the second half, Wingate continued their strong play as they scored the first points of the second half. Wingate would go on a 17-4 scoring run through the second half and they would not look back, pushing their lead to 55-34 with just eight minutes left in the game. Catawba made one final push during the final five minutes of the game with a 6-0 run of their own and forced Wingate to take a timeout. It would not be enough as the Bulldogs won 71-53.
The Indians were led in the loss by senior Antoinette McPhail and freshman Jada Huntley who each had 14 points. Jada Huntley also led the Indians in rebounding as she had nine rebounds and McPhail had seven. Junior Chloe Bully led the Indians in the assist department with three.
The Indians next play on Saturday at home against Lincoln Memorial at 2 P.M. The Indians overall record is now 8-7 and their conference record is 6-5.
catawbapioneerstaff