On September 7, Catawba College opened their season with a home game against a prolific offensive titan, West Georgia. The scoreboard read 10-3 and the game remained fairly close throughout the first quarter. West Georgia made their first step to a bigger lead with a 35 yard pick six in the second quarter. They quickly added another touchdown, putting the lead up to 23-3. Catawba bounced back with a touchdown of their own, helping to narrow the gap. They fought, but were eventually over run, with West Georgia racking up almost 400 yards,151 more yards than Catawba.
Starting the season 0-1 left a bitter taste in the Indian's mouths. They traveled to Winston-Salem State the following Saturday, looking to make up for the mistakes of their home opener. In a hard fought game, Catawba outscored Winston-Salem State 21-14. Catawba won on a combination of a last minute drive that ended with a 1-yard touchdown run by Quarterback, Kendall Davis, and a touchdown saving tackle in the last seconds on hail-Mary pass. Winston-Salem State gave the Indians all they held but it wasn't enough to steal back the lead. After a day of going back and forth, Catawba walked out with a hard earned win against a relentless and dirty team.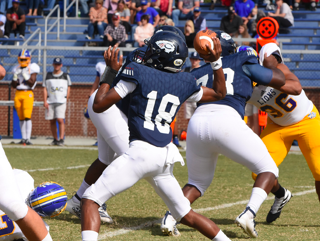 Sadly, the following Saturday, Catawba's short lived win streak was ended in a 28-14 loss to UNC Pembroke. Catawba trailed 14-0 at the start of the second half. Not able to score before the first half ended, the Indians came out rolling in the third quarter. On a physically draining 17-play drive, Catawba's, Andrew Bynum scored a 1-yard touchdown to reduce the lead to only seven. The Braves however, answered quickly with a touchdown of their own. Shortly after they added another, bumping the score up to 24-7 and putting the game almost out of sight for the Indians. A mid-fourth quarter touchdown shortened the lead to only two scores and gave the Indians some life. Pembroke's defense was too much for Catawba and their offense was shut down, allowing UNC Pembroke to run the rest of the clock out and seal the game. Catawba rode back home, now 1-2 as they prepared for Wingate at home which doubled as their first in-conference game.
Wingate traveled to Catawba on September 28 for a 7 p.m. kickoff. The first night game at home for the Indians this season had the stadium overflowing with recruits and parents from all over the country. The fans were ready for an intense matchup and were not disappointed. Wingate struck first with a first possession, 11-play drive. Catawba quickly answered back with a touchdown of their own. Senior Wide Receiver and Return Man, Gavin Rose, caught the TD on an over the shoulder catch near the back of the end zone. Both teams worked heavily to negate any offense after these initial drives in this defensive showcase. Wingate and the Indians traded field goals as well as a couple misses, balancing the score at 10-10 early in the fourth quarter. Wingate ran a successful two minute drill and nailed a field goal to take the lead. With mere seconds left, the Indians attempted to mount a comeback but a late game sack on a last ditch effort sealed their fate. Catawba started the season off 1-3 (0-1 in the conference). The Indians attempted to fight back and make a run for the SAC, with their next game at Limestone.
Catawba's unlucky season continues with four straight blowout losses to conference opponents. Losing by an average score of 29.5 points, Catawba is now 0-5 in the South Atlantic Conference. With playoffs most likely out of reach, Catawba plans to finish the year strong as they take it to Tusculum for their third to last game this Saturday, November 2nd. The Indian's last game, as well as their senior night, will be played on November 16th against Lenoir-Rhyne.
Reese Scott