On January 17th and 18th, McKynleigh Abraham, an actress and self-esteem coach from Paducah, Kentucky, came to Catawba College to do masterclasses with the Catawba College Theatre Arts Department. They worked with the Musical Theatre Performance and Dance for the Musical Stage classes, providing one-on-one repertoire and self-esteem coaching's, giving lectures about their experiences working on a cruise line, and having a discussion with the cast of Catawba Theatre's recent production, Always…Patsy Cline.

Graduating from Northern Kentucky School of the Arts with a B.F.A. in Acting, they continued to do regional theatre work and decided to move to New York in 2016. Some of their credits include the National Tours of Once On This Island and Beautiful: The Carole King Musical and Season 1 of The Glee Project. They will soon be making their Broadway debut in the brand new original musical Shucked, a new musical comedy about the one thing Americans everywhere can't get enough of: corn. This new musical comedy proves that sometimes tearing down a few walls, rather than growing them, is the only way to preserve our way of life." Shucked features a book by Tony Award Winner Robert Horn and a score by the Nashville songwriting team of Brandy Clark and Shane McAnally.

Miki's longtime best friend, Robert "Sharkey", pitched the idea of them coming to Catawba to his partner, Nicholas Fuqua, who is currently Catawba College's assistant professor of Musical Theatre. Miki had been building up their experiences with one-on-one clients and had been wanting to lean into audition and self-esteem coaching.

Throughout this experience, Miki talked about gaining a new appreciation for "…how hard working college students are and how difficult it is to navigate being an artist while also navigating growing up and navigating getting good grades, that's absolute insanity." They went on to add "I think that's it really important and really needed for college students in theatre to work on their self-esteem because college, unfortunately, is where a lot of trauma and bad habits happen. Being here has actually reminded me how difficult it is to do what you guys do everyday, I think this has been really great and it's highlighting what superheroes college students and theater departments are"

This March, Broadway gets Shucked! On March 8th, 2023, Shucked will be premiering at the Nederlander Theatre on 208 W. 41st Street in New York, NY. This corn-fed, corn-bred American musical is sure to satisfy your appetite for great musical theater.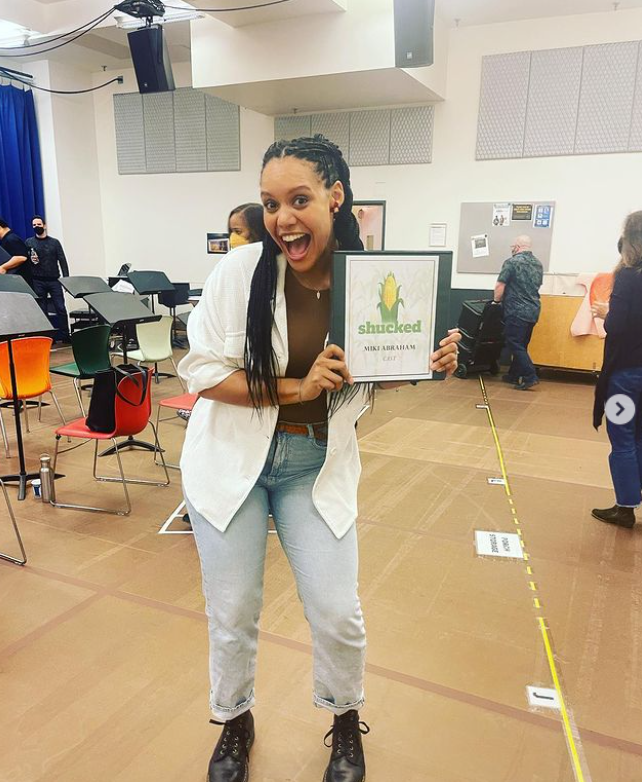 Garrett Jennings