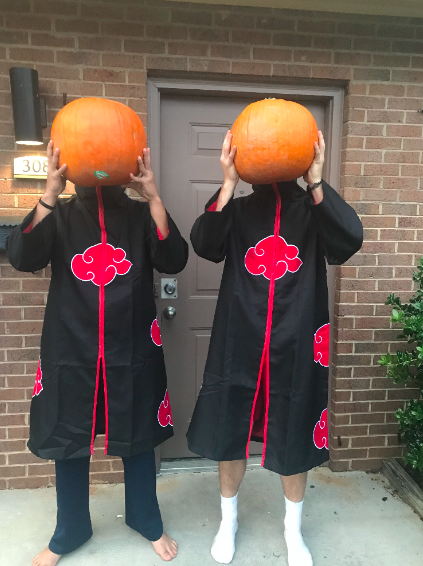 Dylan Rasmussen (left) and Reese Scott (right) above, photo by Bryan Izzo
By Reese Scott and Morgan Harrison
The season's are changing and the weather is getting colder by the day. It's October and the town of Salisbury has caught a case of the spooks, and from the looks of it, so has the campus here at Catawba College. Students huddle up in their dorm rooms as they binge all their favorite Halloween movies and eat too much candy. The scariest thing to come this Halloween might just be the freshman fifteen.
One of Catawba student's favorite Halloween traditions is the Dorm Trick-or-Treat, run by the RAs. On October 30th all students are invited to participate in this annual Dorm Trick or Treat from 7:30 to 8:30pm, following the Big Baer Carnival. There will be RA's stationed at 10 locations around campus to pass out candy to students.
This event allows students who live both on campus and off to trick-or-treat at each dorm. It allows students to have safe and nostalgic fun while they walk from dorm to dorm, collecting stockpiling candy. Trading will be recommended for those experienced Trick-or-Treaters. RA's often dress up in costumes, and decorate their halls to add to the spooky experience. Participants aren't required to dress up, although wearing a costume will only add to the fun. RA Natalie Fraunfelter says, "RA trick-or-treating is a fun way to not only work with my fellow RA's in a different manner, but also get to see other students that I don't get to interact with often." It was really fun last year," says Woodson RA Micah Ensor. "Some people only went through part of campus, but Abby and I did the whole campus and it was a lot of fun." Fraunfelter and Ensor are more than ready to hold their bowls high and celebrate this Halloween.  
Join new and returning trick or treaters on Oct 30 to celebrate Halloween Catawba style.
catawbapioneerstaff