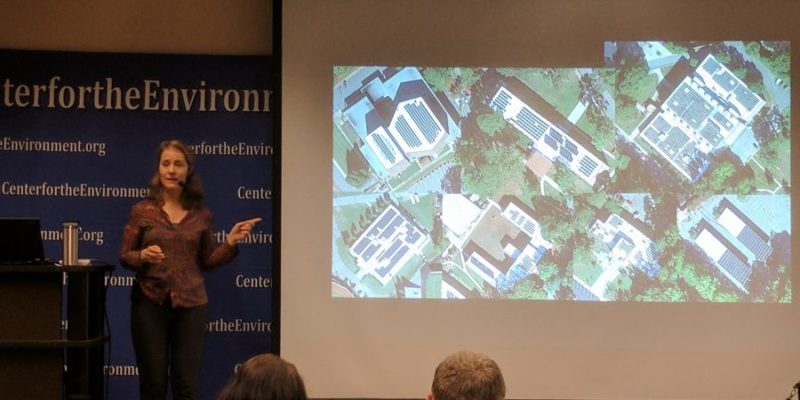 One of the top environmentalists in the United States recently visited Catawba and was impressed with what she found on campus. Julian Keniry is the Senior Director of the National Wildlife Federation's EcoLeader and Higher Education initiative. That means that she cares deeply about what college campuses do to protect their environment. Keniry has spent time studying ways to improve the environment on college campuses all over the world.
Catawba is well known for its Environmental Science and Studies Program. For instance, a student can receive a Bachelor's degree in Sustainable Planning and Leadership. This would give our Catawba students a chance to learn about maintaining a healthy and clean environment, while showing them leadership skills in how to continue being a "green campus" in the future. Keniry has talked to these students about different ways they can go along keeping an organic environment.
Keniry also brought attention to air quality incidents that occurred in Los Angeles, California when she was a child. While playing on the playground of Mark Twain Elementary School, Keniry began to feel an uncomfortable, painful feeling in her lungs. Immediately, Keniry and all her friends were sent home due to the poor air quality surrounding them. This moment in her life was when she became curious about our worlds' sustainability and wanted to know more about maintaining our environment at a certain safe rate or level.
Since then, Keniry has studied the release of greenhouse emissions and other problems involving sustainability. She reminded us that our Catawba is a solar campus and that we should be proud of our sustainability and continue our efforts to reduce pollution. Along with continuing our old sustainability projects, our students can begin new ones. The University of California Irvine saved about nine tons of carbon dioxide per year, thus saving $13,000 per quarter by starting the "Shut the Sash" program. Basically, their campus kept fume hoods closed in environment laboratories. Fume hoods are a large piece of safety equipment that is like a vacuum which removes dangerous gases from the air. These fume hoods are placed in our science labs where students interact with different types of chemicals. Another way to reduce emissions on our campus could be to follow this same program, along with what other campuses are doing around the world.
Along with giving us ideas to reduce emissions, Keniry gave us ideas to keep ourselves healthy and safe. Every day, each student should take time out of their busy schedules for a "green hour." This means spending time outdoors rather than indoors. By doing this, students will be able to focus more in their studies and their mental health will increase.
If Catawba takes Keniry's advice, our campus can continue to grow in reducing greenhouse emissions. By starting new sustainability projects and taking care of ourselves, Catawba College could become a fully green college campus.
Jessica Pautz