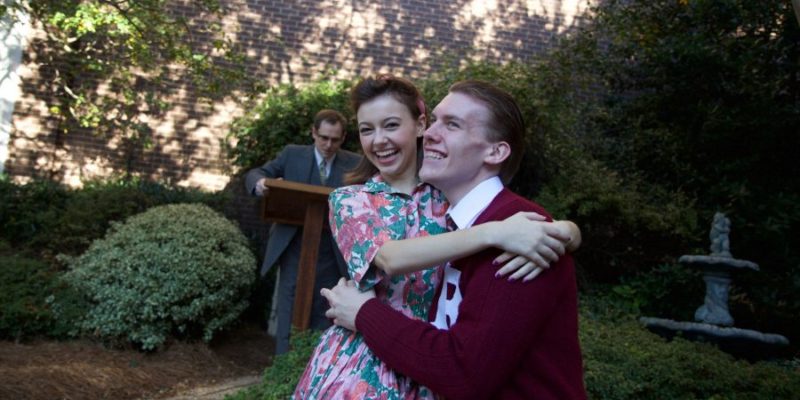 "Reefer Madness," produced in collaboration with Lee Street Theatre as part of a new partnership with Catawba, was the fourth and final show of the Fall 2016 semester performed by the Catawba College Theatre Arts department. While it definitely raised some eyebrows, the show was a wild success, selling out many nights. The musical contained some PG13 content and shocking moments, but was received with enthusiasm from Catawba Students and community members.
The story itself is based off of anti-marijuana propaganda and follows high school sweethearts Jimmy and Mary. Over the course of the show they are introduced to reefer and the overly exaggerated consequences that come about as a result of using it.
The intimate setting of the theatre allowed the performers to get up close and personal with the audience. At one point our very own President Lewis was brought out of his seat to participate in a musical number. This had the audience rolling with laughter. As a matter of fact, the play was so absurd at times there was not much to do but laugh. For example, there are multiple numbers where the entire cast was wearing undergarments or nude bodysuits with things attached to them such as cartoon marijuana leaves, pot brownies, or shiny stars. While this may seem somewhat out-there, the performers' modesty was always maintained and everything was approached from a satirical and absurd perspective.
I went to the show with a friend of mine who does not attend Catawba College and who had never seen one of their performances before. He remarked to me that the show was "truly a fun and amazing experience." He also said that "if the college does another classic play like this one you can count me in to experience it again and again." This is the type of reaction that the Catawba College Theatre Arts department is always striving for.
For now, Catawba students have a break for the holiday season. They will be producing shows again in the Spring Semester with "The Children's Hour," "25th Annual Putnum County Spelling Bee," and "Spring Danceworks." Don't miss these amazing shows!
catawbapioneerstaff