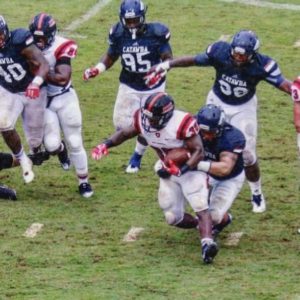 Catawba Football is back and is searching for a South Atlantic Conference title by the end of the season! Senior defensive lineman, Ryan Watts, believes Catawba will go at least 9-2 by the end of the regular season. "My freshman year seniors were rude to the freshmen. We've been through conference championships and with guidance our team's chemistry will improve and get us to a conference championship. There are heated times, but we are family. Our chemistry is as high as I have ever witnessed. This is why we will win at least nine games this year," Watts stated before week one of the regular season.
Catawba's football team is 2-5. They had a great loss to West Georgia week one, beat Winston Salem State week two and just beat conference rival, Tusculum, on Saturday, October 20th. Ryan Watts has been through it all with Catawba football and now even more as he is in his senior season. As most upperclassmen know, Catawba's all-star defensive player, Kyle Kitchens, graduated last year, and big shoes needed to be filled. Kitchens was a key aspect in the success Catawba achieved and not having him this year is definitely something the team needs to figure out sooner rather than later. Watts is confident that Kitchens' spot will be filled. "He is a freak, but we will fill his spot."
Ryan Watt's Catawba experience would not have been the same without football. "Having to juggle sports and school is not easy. Some people say athletes get it easy. Being here, in a small school we are not treated as athletes but as a student first. Professors email the coaches and we are punished if we slip up. It's not just football, it has built my character". Watts has an incredible passion for football, but he also understands how important it is to get an education.  If Watts could give any piece of advice to the freshmen on the football team it would be a quote by Eric Thomas; "Pain is temporary. It may last for a minute, an hour, a day or even a year. But eventually it will subside and something else will take its place. But if I quit however, it will last forever". Catawba football is a true family and will stop at nothing but their best to achieve greatness! ROLL TRIBE!