"There really hasn't been any growth"- The Zombielike Presence of the Cabarrus Youth Development Center
Jessica Brown
October 19, 2021
0 COMMENTS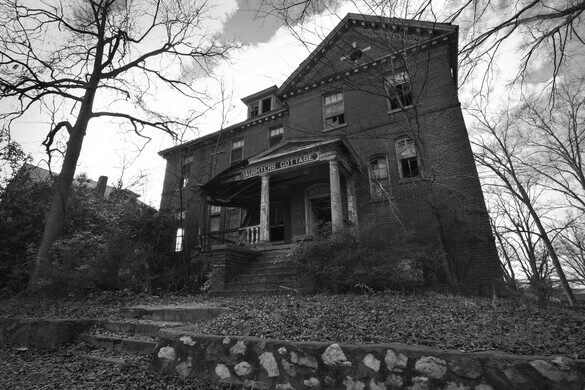 What horrors have taken place inside of this not-quite-dead relic?
Historic downtown Concord NC is an idyllic, storybook picture of small town America, with a kitschiness that resembles the setting of "The Andy Griffith Show." However, on my way there, I am always taken aback by the ruins of the Stonewall Jackson Youth Development Center, with its arched, rustic sign like an ominous warning, dilapidated buildings overtaken by gnarly ivy, and barbed wire, all giving one a sense of imprisonment. In a way, the contrast between downtown Concord and the Stonewall Jackson Youth Development Center represents the line between the past as we often like to idealize it for the sake of nostalgia, and the sometimes bitter truth that dwells on the outskirts of our consciousness. The truth we sometimes are not willing to acknowledge, but that creeps at the back of our awareness.
This is, of course, just a superficial and pretentious first impression dressing itself up as a profound observation and one that is only somewhat in alliance with reality. According to the North Carolina Department of Public Safety, 23 of the 60 structures are currently in use. Furthermore, as of October 2020, the location has attempted to rebrand itself as the Cabarrus Youth Development Center, perhaps in an effort to distance itself from the confederate general, or perhaps from the center's history that is so mangled with allegations of abuse and misconduct. Sure, there is still life in this organization, but before one can move forward they need to confront their past.
In 1909, the Stonewall Jackson Manual Training and Industrial School opened as the first ever juvenile detention facility in North Carolina, originally only serving white boys, where they would learn a trade, as well as receive an academic education. Named after a confederate general and founded partially with the help of a couple of confederate women's groups, the school was already off to a controversial and incendiary start. The school was created to be a place for troubled youths so they would not have to go to adult prisons. The definition of troubled was often used rather loosely, with boys usually only admitted for relatively minor acts of rebellion like playing hooky, until around the 1970s, when youths were rarely ever incarcerated for minor cases, with the center becoming used for serious offenders who committed drug and weapons-related offenses. Since 2019, the center has served "at-risk youth," allowing them to receive a GED or attend high school. Yet the picture of the center is painted with the, often fruitless at best and inexcusably cruel at worst, experiences of its inmates. Rape, forced sterilization, death, and the abuse of inmates are just some of the scandals the center has endured.
Russell Dan Smith, an activist known for founding the organization, People Organized to Stop the Rape of Imprisoned Persons in 1980, now renamed to Just Detention International, as well as founding the National Gay Prisoner Coalition, has stated to the press that he was raped there when he attended in the early 1960s for stealing. He told CBS 17 in 2019 that, not only was he raped, but he was punished for being raped, as he was humilated by having his parents told he had sex with boys, plus, he was beaten, receiving 76 lashings for smoking his first cigarette. In the same CBS 17 segment, the Deputy Secretary for Juvenile Justice, William Lassiter, asserted that currently, the facility is more about therapy than punishment. It does not stop there though, not much longer than a decade before Smith's rape, the center was guilty of eugenics too.
In the late 1940s, according to the University of Vermont, Stonewall Jackson sterilized seven white male teenagers by vasectomy (although some other sources say six), in operations the North Carolina Eugenics Board had authorized. This was in an effort to limit "feeblemindedness" and weed out the "undesirables." These were the only boys ever sterilized there, although several girls who were deemed "mentally retarded" were also sterilized there over the history of the school. After all, most NC sterilizations were on women and girls rather than boys and men. In fact, North Carolina was one of the last states to continue to perform sterilizations on people under state care. Yet it still gets worse in regards to human suffering.
In the Taylor v. Stonewall Jackson Manual Training & Industrial School case of 1969, the NC court of appeals did not find the state responsible for the death of a 13 year old who was run over by a dump truck that a state employee was driving. I contacted Waitsel Beard, a pastor at the Community Baptist Church of Lenoir NC, who attended the school at the time of the accident. He disagreed with the verdict and previously wrote in the comments of a post on the University of North Carolina library blog: "The trucks came barreling in and never slowed down for anyone. If you were in the way, they ran you down. I've seen other boys beaten unmercifully, blood flying out of their faces. I ran away after 3 months determined to never go back." He also recalled being beaten himself several times with fists, switches around his neck, and sometimes, when he had not even done anything, the man on the yard that he worked for, he believes Mr. Suther, would pop a switch around his neck just for fun. A favorite punishment of the cottage parents was to hold a child's foot up and hit their bare foot with a ruler or strap until a kid could hardly stand it. He states this was called a "hot foot." When I contacted him, he added that he was in fear of his well being every day he was there and that he also saw Mrs. Henson pick up a cornstalk and beat a boy over his head because he accidentally broke it while pulling it from the ground. Similarly, Gary Teer is a man now residing in Kansas, who tried to run away from the center 3 times. He first resided in cottage 6, also known as Pee-Wee Cottage, and later in cottage 13, that was, as he described to me, "where residents and staff alike took advantage of young boys when they could." Teer also wrote in the same blog's comments: "Yes, I know about the boy being hit by the dump truck. Several of us were in the back and the driver, Richard Poteet, was driving pretty fast toward the chicken houses where we worked. He did not stop for pedestrian traffic coming across the street. He had thought all of the boys had gone by and didn't even look. The boy came out from the buildings and was hit. Poteet didn't know he had hit anyone until we banged on the cab roof and shouted for him to stop. He backed up and picked the boy up and put him in the cab. I took my shirt off and held it on his head which was bleeding badly, and when we got to the infirmary, I was told I could not stay there. [I]had to walk back to the cottage. I got a beating for having my shirt off and all the blood on it because it was a state shirt!" He went on to state: "I cried because my cousin was killed that day, but no one cared. [Richard] Poteet got away with that because he was a state employee." His account is bone chilling to say the least. Even since then, the center has remained problematic in its lack of protection for its inmates.
I corresponded with Charlie Doughtie, who was only 12 years old when he attended the center in 2012. He states that he was having issues with his step father who lied and pressed charges against him, Doughtie believes, because he could not afford to send him to military school. He goes on to explain that he was then sentenced in juvenile court in Halifax County NC and sent to Stonewall Jackson. He recalls the experience, that lasted 2 years, as "terrible," remembering, "I was younger and smaller than most of the population, so it was a constant battle to keep myself safe and out of trouble." An anonymous source who attended the center in the late 1980s for 6 months, when they were 15, confided to me: "There were a lot of fights. There was a lot of sexual acts with some of the kids. Some willingly and some not so willingly. It never happened to me, but I did witness it. Most of the kids there had no real homes to go to. The state just kept sending them there. A lot of kids were already psychologically broken and this place didn't help them." It is not just students and inmates who have voiced criticism towards the facility either, some contemporary and past employees see issues present too.
Besides the issue of mistreatment, there is also just the issue of ineffectiveness, a lack of direction, and a lack of safety. An anonymous current employee, who has worked for the center since the early 2010s remarked: "There really hasn't been any growth. There is so much more that needs to take place before they can say things have improved. So many things are pushed under the carpet. This was the second time petitioning for a new name change. Without BLM and George Floyd it wouldn't have happened." Interestingly, when prompted to elaborate more on other specific instances of issues being "pushed under the carpet," they declined to go into detail, incriminating the center further. They continued: "There is no current mission. No real rehabilitation program for the juveniles or promising reentry program to ensure they don't repeat offenses, so many juveniles return, which says a lot for the behavioral program at the facility." I mentioned the COVID cases that the media reported less than a year ago, asking if they felt safe working at the center. They replied that ServiceMaster had only been called in to spray the facility once last year. After the media reported the case of a staff member testing positive for COVID 19, nothing happened for months, until last month when ServiceMaster was brought back to finally disinfect certain areas where staff members who contracted the virus worked, as well as the classrooms, although not all teachers are in classrooms, some are still in the dayrooms. Furthermore, not only did some of the staff test positive for COVID 19, juveniles did too, according to the anonymous staff member, a lot of them did. No cleaning crew comes in to disinfect the center on a daily basis. Teachers have to clean the classrooms and staff has to clean the dayrooms. They finished: "Administration isn't really coming throughout the buildings, so it isn't as important to them to create a safe environment. I asked when COVID first started what type of SOP would the center implement. Other facilities/centers acted quickly and got necessary supplies to keep their employees safe. I've never felt safe or protected. I had to purchase my own masks and for months, disinfectant spray, sanitizer gel, etc. No one truly wants to come in and out of the building. But we have a job to do. We still have a long way to go." Past employees also recognize the contemporary issues the center is facing.
Another anonymous employee, who had stopped working at the center several years ago, corroborated some of the first employee's claims. This employee, who worked at the center from the mid to late 2010s, stated that the center was guilty of diminished educational and vocational programming as clientele demographics changed, ineffective youth transition/re-entry services, high absentee and employment turnover rates, overcrowded and unsanitary work conditions, lack of transparency regarding Cannon Family donations, lack of transparency of State and Federal funds for educational and career readiness training and poor quality of personal hygiene products and clothing for youth. Essentially, it was hard for me to find someone with a positive opinion of, or positive experience with, the institution.
Hopefully the Cabarrus Youth Development Center will acknowledge their past and current issues, then take action. You can not move forward when you do not acknowledge where you currently stand or where you come from. Until the center does so, it will continue to occupy the haunted, liminal space of the mind for onlookers, and harm those who must attend and work there. All as it looms menacingly, with an undead, zombie-like presence.
If you are interested in exploring some of the topics discussed in this article further, pick up "Raped In Prison: A Horror Story," Russell Dan Smith's new book, available on Amazon.com in both Kindle and paperback formats. Although I will give you the disclaimer, Smith himself personally informed me that some of the issues brought up in the Stonewall Jackson chapter have never been uttered by him before because he did not have the evidence at hand, such as possible deaths of boys who disappeared there being among the allegations he puts forth. However, the explicit details of his accusations make it a compelling read nevertheless.
Jessica Brown
Jessica Brown is the Editor-in-Chief of both The Pioneer Newspaper and The Arrowhead Literary Arts Magazine for Catawba College. She is a senior graduating in May 2022. She will receive a Bachelor of Arts in Integrated Marketing and Communications with a minor in English.