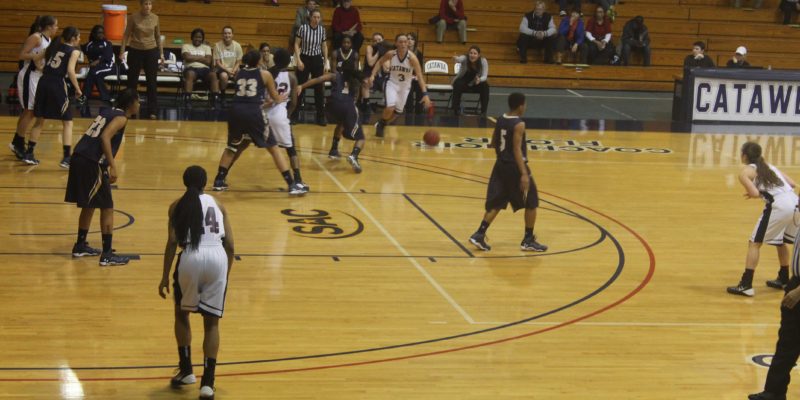 The Catawba Indians women's basketball team defeated Queens last Wednesday night, 69-54. The Indians would get off to a fast start as they got the opening tip off and started out with a 3 pointer by junior Chloe Bully to open the game. Catawba started the game on a 5-0 run before the Royals finally scored on a 3 pointer. After the 3 pointer that was made by Queens, the Indians would continue their strong push to start the game after a pair of lay-ups by Bully and Mallary Clay would make the score 9-3 Indians. Catawba would eventually make their lead 13-5 on a lay-up by Emma Ucinski which forced the Royals to take a timeout.
Catawba would continue their strong push to start the game in the first half as they would have a lead of 19-7 at the 12:14 mark. The game would get close under the 10:00 mark as the Indians would have to call a timeout at the 9:34 mark as the Royals went on a 7-0 run to make the score 19-14 Catawba. The Royals would continue on their run as they would go on a 13-0 run to take the lead 31-24. Catawba would fight back and take the lead going into halftime 34-31, as they would finish the half on a 9-0 run.
In the second half, Catawba continued their strong play as they scored the first points of the second half on a lay-up by Jada Huntley. Queens would trade baskets with the Indians in the early part of the half, but the Indians did not look back as they maintained their lead throughout the second half. Catawba would push their lead out to 10 at the 8:35 mark on a 3 pointer by Janna Dixon would, making the score 55-46. Queens could not catch up to the Indians and they would hold the lead and win by a final score of 69-54.
The Indians were led in the victory by senior Antionette McPhail who had 25 points and by junior Chloe Bully who had 13 points. Antionette McPhail led the Indians in rebounding with nine. Junior Chloe Bully led the Indians in the assist department with four.
The Indians next play on Wednesday night at home against Coker at 6 P.M. The Indians overall record is now 10-10 and their conference record is now 8-8 after this win and a 85-61 loss on Saturday to Tusculum.
catawbapioneerstaff