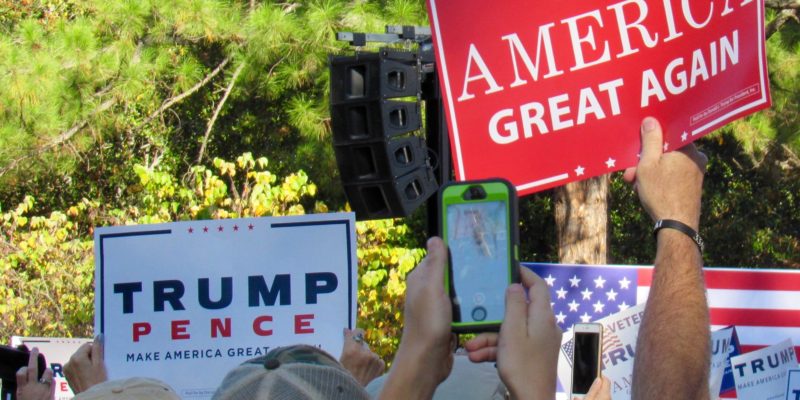 (SALISBURY) Then Republication Vice Presidential Candidate Mike Pence, running mate to Donald Trump, held a political rally here at Catawba College on October 24, 2016. While there were many individuals who were excited about this event, it also posed some problems to the campus. One of the everyday problems for students who attend Catawba College is finding a place to park their cars. During normal operating conditions around campus, the school's student lots are full and students have to drive around several times to find a place to park. During GOP Candidate Pence's Rally, college officials had no choice but to close off several key lots starting the day before the event, for both security reasons and for the general public to be able to park.
I personally spoke with several students who all said there is not adequate parking on campus for students, let alone for events that include the general public. One of the students, who wished to remain anonymous, just started commuting to Catawba this year. She explained that the day of the rally, students were allowed to park in a lot they usually are not supposed to, but that it still was not enough for all of the students. She also said that many other students who choose to commute instead of live on-campus decided not to drive to school for fear of not having a parking spot. This is unsettling news because if our future generation makes the choice to attend college, but is then unable to actually attend classes, then they will not get the full value of their education that they pay for.
There are several ways that this undesirable parking situation could be remedied, but one of the easiest ways that the parking situation at Catawba College could be dealt with would be to convert a parking lot into a parking deck. The best place to do this would be in parking lot 17 behind Ketner Hall. This would allow for more parking that does not take up more space on the campus's beautiful grounds. The proposed deck would have to be constructed over a summer break or it would cause the situation to become even more dire in the meantime. If the parking situation were remedied, then events such as the Pence rally would be able to occur more frequently with less inconvenience to those affected.
catawbapioneerstaff