Professor, Sportscaster, Husband, Father, Grandfather, Friend, Mentor Remembering the Life of Professor Mike Hogewood
Blake Pierce
October 29, 2018
0 COMMENTS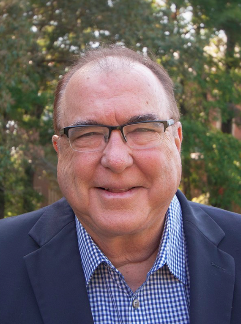 The Catawba College community lost a beloved former professor on September 5, 2018. Mike Hogewood taught in the Ketner School of Business from 2015-2018 as an Assistant Professor of Communications. During his three years at Catawba, Hogewood helped grow the Sports Communications program and reinvented The Pioneer, Catawba's student newspaper, for which he served as faculty advisor. Hogewood taught a large variety of classes including Public Speaking, Introduction to Mass Media, Writing for Media, Applied Journalism, and Oral Interpretation.
The life of professor Hogewood was nothing short of adventurous. Little did many people know, that he had a successful career in the media industry before entering the teaching profession. He started his career by working as a weekend DJ at a local radio station and operating the sound board for collegiate events while in college at Lenoir-Rhyne University (LRU). One of the jobs that gave him some of the most experience and by far, one of the jobs that he talked most about in class, was when he was a weeknight DJ for WHKY-AM radio. Also, while at LRU, Hogewood participated in an internship as a weekend news reporter for WSOC-TV. After graduation the position became full-time.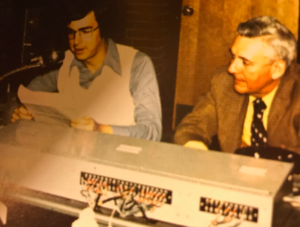 After working at WSOC-TV, Hogewood transitioned into sports communications. He accepted a job as a sports reporter for WBTV in Charlotte and later moved to Ft. Myers, Florida to become the sports director for WBBH TV, at the young age of 27. He became the sports director for WBRC-TV in Birmingham, Alabama, before deciding to return home to North Carolina. Hogewood was a sports director for both WGHP-TV in High Point, North Carolina and WFMY-TV in Greensboro, and later became a sideline reporter for Raycom Sports.
In 2001, Hogewood became a freelance media specialist. His work mostly consisted of sports casting. He appeared as a broadcaster frequently for ACC events, but has also been featured on ESPN and TBS. Hogewood also wrote and produced commercials. He was known throughout the triad for his Carolina Kia commercials. He mastered yet another art, public relations.
After such a successful career in the media industry, you would think someone like Hogewood would have completed all of his goals, right? According to his wife, Nancy Hogewood, there was still one more thing he wanted to try – teaching. "As a seasoned reporter, writer, editor, videographer, producer and broadcaster, he felt that he had to give back," said his wife. He graduated from the University of North Carolina at Greensboro in 2015 with his master's degree. This was the key to unlock his next endeavor. He began teaching at his alma mater, Lenoir-Rhyne University, and soon began teaching at Catawba. He was employed with Pfeiffer University as an assistant professor of communication at the time of his death.
If you didn't take a class with "Hogewood" as many of his students called him, you missed out on some of the most memorable lectures and engaging conversations. Instead of embracing the traditional professor demeanor, he was more like a mentor who just happened to teach you some pretty cool stuff along the way. He brought much enthusiasm and passion to the classroom and it showed in his teaching. "He loved planning interesting lessons that would help capture the attention of young minds and propel them to work beyond the class expectations," explained Nancy. Even if you didn't take a class with him, chances are, you saw him around campus. He was an active member of the Catawba campus, supporting his students at both academic and athletic events.
According to Hogewood, one of his favorite parts about being a professor was "helping students think about their life goals." Junior, Jess Pautz, credits Hogewood for helping her decide to major in communications. "He helped me realize what I wanted to have a career in and taught me everything I possibly know," said Pautz. During his time at Catawba, he helped many students obtain internships and jobs in the communications field.
His office door was always open for students and colleagues. He was always available for conversation when on campus, which you could easily determine by checking to see if the bright blue Kia was parked in the Ketner parking lot. Going to his office was like going to talk to a lifelong friend. We had many conversations about what he felt would be an appropriate career path for me, internships he thought I would learn a lot from, and talks about life in general. I will never forget my first one-on-one conversation with him; he asked me what I was looking for in a job and I responded, lots of money. From then on, I was known as "the money man" in the next two classes I took with him.
Pautz also reminisces on one of her most fond memories of Hogewood. "I was in Mass Media and we were in the music section. He started playing Crazy by Patsy Cline and My Girl by The Temptations. I was the only one in class singing along and dancing to the classics. As I left class, he said to me "Jess, I'm glad you and I can share the same style of music." From then on, I knew him and I would be partners in crime," said Pautz.
The little time that he had away from campus and his other careers, he liked to spend with this family. He and his wife, Nancy, had two children and three grandchildren. He enjoyed spending time in the mountains and especially around the areas of Myrtle Beach, where he gave boat tours during the summer. He had a love for musical theater and was a dedicated member of his church choir.
Hogewood isone of  the most influential people I have ever met. He taught me how to be a better public speaker and writer; for that alone, I am grateful. He always pushed me to be the best that I could be and never allowed me to think I was less than capable of achieving my dreams. Last semester, when Hogewood announced he would not be returning to Catawba, I was devastated, but to know that I will never see him again on Earth, I am heartbroken.
"Goodbyes are not forever; goodbyes are not the end. They simply mean I'll miss you, until we meet again." -Unknown
*A special thank you to Nancy Hogewood for her participation in this article
Blake Pierce