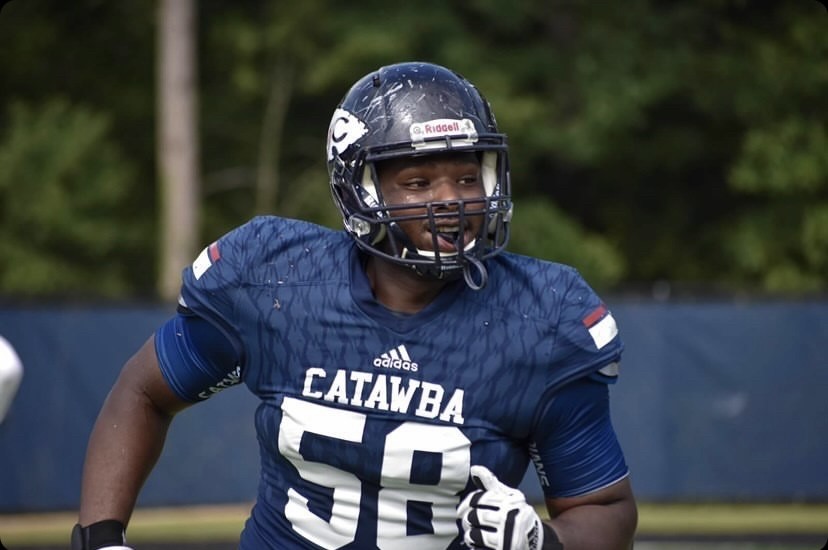 On Sept. 11, 2021, Catawba College won against Winston-Salem State University with a 28-6 lead. The last touchdown was scored by Catawba freshman, Mike Jones. To highlight him as the MVP of this game, I set out to do a "Student Spotlight" of him. I went and talked to Jones to get the full, in-depth story of how he achieved his MVP status, as well as some of his personal backstory.
I asked him what makes a person an MVP athlete. He replied with: "I think what makes a person an MVP is their work ethic and the way they carry themselves through the up and downs." I liked this response because not only did he mention work ethic, he mentioned the mental game as well. Subsequently, I asked him why he got a scholarship at Catawba and what made him choose the school. He replied with: "I got a scholarship to Catawba [be]cause of my great GPA and athletic abilities (…) I always saw something in this school and wanted to give it a try."
My next questions were more related to the game, asking Jones to explain how it went in his eyes. He spoke with a lot of pep and stated: "The game was great, loved the support from the Catawba students and fans. I just really enjoyed the atmosphere." I wondered what got him into football. He said: "Me watching the game since I was a kid made me fall in love. Also, seeing my uncle's play made me want to play." I found this interesting because he was so young watching people do what he is doing now, playing football.
Finally, I asked Jones where he saw himself after graduation. He spoke very confidently and said: "I see myself in the pros and after that with a very successful business and working in finance with my bachelor's degree."
I loved the attitude Jones kept the whole way through the interview. He knows the ins and outs of football. He knows that not only is it a physical game; it is a mental game as well.
Skylar Payne
Hi, I am Skylar Payne, I major in Integrated Marketing and Communications and have a minor in Marketing. I am also a part of the school's Track and Field team.