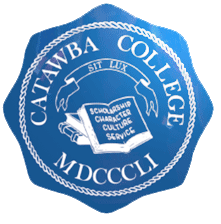 Most colleges have fraternity and sorority houses on campus. Collectively, these groups are called the "Greek system," because each house is named after two or three letters of the Greek alphabet. Many students from Catawba College have asked the question of why Greek life isn't on a campus that is rapidly growing everyday. With myself being a child of a family who was also involved in Sororities and Fraternities, I usually ask the same question as well.
President of the Black Student Union, Alexis Beverly had this to say about the possibility of Greek life on campus, "Not only will it create unity, but it will also boost campus involvement. By being able to say that you are in a brotherhood or sisterhood is forever amazing, which is why everyone should get this opportunity."
President of Catawba College, Brian Lewis stated "Greek Life tends to flourish on larger campuses where people seek a smaller more structured social setting/organization to develop a group of peers and friends. Campuses like Catawba are small enough that such needs are more typically met in other activities such as athletics, theatre, music, clubs, etc."
Even though the school is still based on this rule could it possibly be changed? Even though we are a small school, more activities such as Greek life could add on to the fun. Catawba college should take a step in trying to propose this as a new involvement on campus. Not only would it bring more students to the college but it would also bring students together who aren't involved in any activities at the institution. It could also bring students of different ethnic backgrounds together who aren't use to interfering with one another. This proposal would be a new step for Catawba College and, with time changing all around us, trying new things is always good right?
catawbapioneerstaff