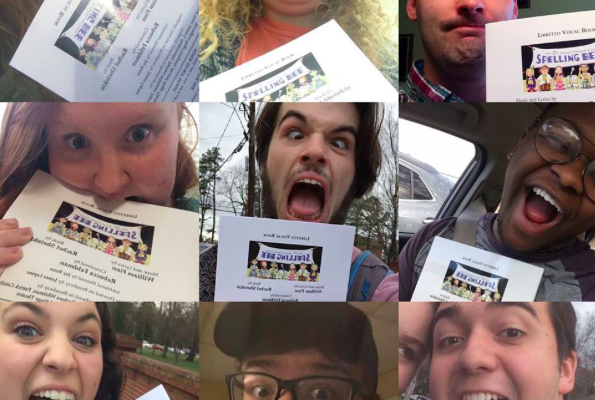 The 2016 fall semester brought the Catawba Theatre family not only closer with each other but closer to the rest of the Catawba community. Several productions were put on through the course of the semester along with old traditions resurrecting, like the Freshman Showcase. This semester, the Catawba family expects just as much from the Theatre community. Three productions are being put on throughout the semester, ranging from dance ensembles, plays, and even a musical.
The dance ensemble being held this year is based on the story of Lewis Carroll's original book Alice's Adventures in Wonderland. This is far different from Disney's animated film, therefore if you are expecting anything in that nature, you might be disappointed. However, this story line is very exciting and brings a lot of energy to the theatre. Dancers will be transforming "from characters to tables, to trees, to the sea, and more," says choreographer Meredith Fox. Several students are dedicating their personal time and effort to be a part of this ensemble. Meredith Fox says, these young adults are completely at "different stages in their training process," which makes it a lot more fun to collaborate with everyone. Everyone should come out and support these talented Catawba students as they dance their hearts out near the end of April.
If one wants to go see an engaging, comedic musical, the 25th Annual Putnam County Spelling Bee is where to be. This is the type of show that anyone can truly relate to. Everyone has gone through those awkward phases in their life, especially in our adolescent years. Spelling Bee is the type of production that is "high-energy, tons of fun, and packed with topical references," says Student Director, Peyton Glendinning. This production is completely led by Blue Masque students with theatre faculty serving as their mentors along the way. Theatre is truly about "rounding us out as fearless artists and making every facet of the craft accessible," states Glendinning referring to the help of all her peers. Spelling Bee is the musical that everyone should go out and support at the end of March.
Finally, every semester must have at least one play. The Children's Hour, directed by Professor Tommy Foster Bradley, comes through as "a commonplace for half-truths, twisted observations, and outright lies to be taken as truth." It is the type of show that will fill you with a variety of emotions, ranging from depressed to furious. This play was written in 1933 and the director is mostly looking forward to seeing how it plays out to a contemporary audience. Not only will this play challenge your emotions, but Professor Foster Bradley challenges his audience to "look for themselves in each of the characters as each of them lives in us." Everyone should go out and support The Children's Hour cast and crew in their performances in late February.
The entire theatre faculty has worked extremely hard to put on these productions for the Catawba community. Therefore, I encourage everyone to go out and support these shows. You won't regret going to one!
Jessica Pautz