Feb. 9, 2019, marked the date for the annual Winterfest dance at Catawba College. The dance was held from 9 p.m.-12 a.m. in the Goodman Gym, which was completely unrecognizable due to the festive decorations and the hundreds of people walking around in their formal attire. This year's Winterfest theme was "galaxy," which was made complete by the galaxy inspired cupcakes and cookies, decorative lights, and a photobooth with a mesmerizing blue and purple galaxy background. The dance was also accompanied by a DJ who played tunes all night for nearly 500 Catawba students.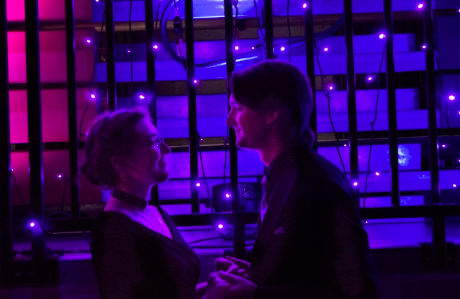 This year's Winterfest was made one to remember thanks to the Helen Foil Beard Woman's Society, who has been in charge of planning the dance since it started over thirty years ago. "It's interesting to see how the dance has changed over the years," says Helen Foil Society member, Malissa Giannetti. "The dance used to be very formal, and now it's more semi-formal." Although Winterfest has changed some since it started, it is still drawing a large crowd. "We had about 450 tickets sold prior to the dance, and we're expecting more to show up," says Giannetti.
Winterfest attracts students from all years, and all backgrounds, to come together for the special event. "I liked it alot. It was a lot of fun," says Freshman, Will Sheehan. "My favorite part was the dancing and the music." Sophomore, Leah Poole, agrees that the music was one of her favorite parts. "I liked the music and the different variety of songs," says Poole. "I also liked the photobooth because the guy was nice." However, Sophomore, Christina D'Amelio disagrees that the music was one of the best parts. "The music needed more variety," says D'Amelio. "My favorite part was just being with my friends."
The dance had many positive remarks, but there are a few things students would like to see change. "I'd like to see more people there next year," says Sheehan. It is true that this year's Winterfest had more than 50 fewer participants than last year, however, sports games may have caused the lack of participation. "Men's and Women's basketball was away and so was swimming and Women's lacrosse," Poole points out. "Also, Winterfest was earlier this year than last year." Poole has another solution for increasing Winterfest's attendance. "I think they should allow people to bring guests and not be so strict about getting tickets before. People should be allowed to just use their student ID's," says Poole. D'Amelio has one more change she would like to see for next year. "I think the dance should be from 10pm-1am," says D'Amelio. "Ending at 12am is too early."
Although there are a few things students would like to see change for next year, overall, students feel Winterfest is a very important event to have on campus. "It's the one semi-formal we have because we don't really have any fraternities or sororities," says Poole. "It allows everyone to dress up and have fun." D'Amelio agrees that Winterfest is a valuable event to have on campus. "Catawba doesn't have a lot of events, so it's nice that we can all get together for this." It sounds as though Winterfest was another success this year, and will be around for many years to come.
Morgan Harrison