By Maurice Jones
The past three seasons have resulted in some deep postseason runs for the Catawba Indians Baseball team. Last season ended in disappointment as the team suffered a heartbreaking defeat in the conference championship. After winning some big games in Florida to start the season, Head Coach, Jim Gant, and his team look primed to make a deep postseason run.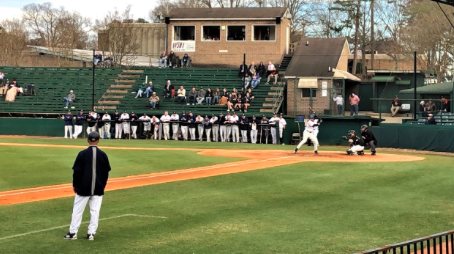 Last season the Indians lost to Lincoln Memorial in the eleventh inning of a winner takes all game for the conference championship. Junior pitcher and first basemen, Hunter Shepherd, is ready to put the memory behind him. "It was not a good feeling especially since it was a close fought game," said Shepherd.
Luckily the team looks like that memory is already behind them as they were able to beat some strong teams in Florida to start the season, giving them some momentum going forward. Shepherd believes keeping that momentum rolling will be highly important. "Keeping the momentum that we built after beginning the season 3-1 in Florida will be hard, but it is definitely possible for us to maintain," said Shepherd.
This year the team is faced with the challenge of replacing some good players, like first basemen, Chance Bowden, center fielder, Luke Setzer, and left fielder, Kyle Smith. Bowden and Setzer were named first team all conference and Bowden was the conference player of the year. These three accounted for 234 hits, 39 home runs, and 160 RBIs last season. They were also stand out players in the outfield. Shepherd thinks that this production can be replaced this season "I think we have some key players that were added into our lineup this year as well as some versatility," said Shepherd.
Despite losing some key guys from last year the team is returning a couple important starters like third basemen, Jackson Raper, second basemen, Joe Butts, and designated hitter, Heath Mitchem. Mitchem was named an Honorable Mention for an all conference team. Raper was named Second Team All Conference and last year he had the third most hits on the team as well as nine home runs and 47 RBIs.
Last year Joe Butts had a standout freshman season and was even named an Honorable Mention for an all conference team along with Mitchem. Shepherd believes that we will see some major improvements from Butts this season. " He will be able to build on his outstanding freshman year. He is very mature as a player and I think he will handle everything fine," Shepherd exclaimed.
The team will also be welcoming shortstop, Jeremy Simpson, back to the line up this year. Last season he had to redshirt due to a labrum tear. Simpson started every game in the 2017 season and had 143 assists and 70 putouts.
The team will have to replace some guys in the bullpen as well. With the departures of Clay Young, Michal Ewell, and Connor Johnson, the only returning pitchers with a good amount of experience are Shepherd and juniors Reiley Myers, Bryan Ketchie, DJ Laxton.
A Lot more will be asked of guys like Greg Brown, Caleb Link and Sawyer Strickland. Shepherd believes that the pitching staff will do well this year. "We have some guys that developed and matured over the fall and some key people that are new to the pitching staff," said Shepherd. There are also new additions to the bullpen this year, such as Trent Montgomery and Robbie Cowie.
With some new faces and some key returning players the 2019 Catawba Indians Baseball team is looking to go far this season. Maybe even all the way to the NCAA Division II National Finals for the first time since 2015.
catawbapioneerstaff