By Maurice Jones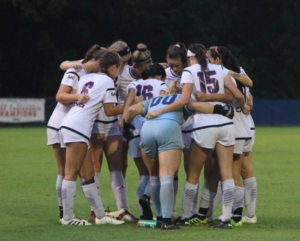 The past couple of seasons have been rough for the Catawba Women's Soccer team. The team has not finished with a positive record since the 2014 season. This is also the last time they won a game in the South Atlantic Conference Tournament. Luckily things have been different in the 2018 season.
The Indians already have a spot in the conference tournament clinched, with two games remaining in the regular season. Catawba is also still in a play to finish top four in the conference, which will get them a home game in the conference tournament.
When asked what she credited for the team's success this season, senior goal keeper, Shelby Thompson said, "our team chemistry, deep bench, and work ethic puts us on a different level than many other teams we face." Junior midfielder, Sarah Steedman added by saying, "our team chemistry this year is better than ever. Every single person has created a bond with one another that is unlike any other year that I have been here."
Depth is also key to the Indians success on the field this season. Steedman said, "every person on the team can come into the game and make some magic happen. Starting spots mean nothing and that is so big for us. It is also so hard to play your 100% best in every game, so if one day someone is contributing a bit more than someone else, that teammate can take over and help."
One of the team's captains, Logan Sandate, was lost three games into the season after tearing her ACL. When commenting on Sandate's injury, Thompson said, "you would think that having a captain have a season ending injury would break a team, but Logan has been such an incredible force on our mentality and perspective of the game, that I believe that this injury has pushed this team to a new level. She can't be out there with me, but her determination, passion, and mentality can be."
This year the team has gotten some good play from their freshmen. There were 13 freshmen that joined the team this year and some of them can produce right out of the gate. Steedman says "each of them bring a twist to our team that we have never had before." She also says that they bring a lot to the team on the field, but their personalities off the field make you want to cheer for them.
Katie Beck, Mackenzie Rennie, Katie Webb, Kasey Mclamb, Jenifer Chambers, and Courtney Reavis have played in every game. Thompson says that this freshmen class "continues to challenge us upperclassmen as we all work to earn playing time. This creates a very high level, exciting environment to compete with each other."
Freshmen defender, Katie Webb, has been an important part of the team this year. Webb is from Murfreesboro, Tennessee and says she decided to come to Catawba because "there was an immense feeling that this place would become my home away from home. I can't rave enough about the atmosphere at Catawba." She also says the team is very welcoming and it feels great to automatically have 30 best friends.  
The team's freshmen have been great, but we can't forget about the upperclassmen. In 2016, a lot of freshmen joined the team. This class has had a couple of rough seasons but this year things are finally clicking.
Defenders Elena Sopranzi, Anna Sidders, Peyton Pruitt, and Bree Roberts have all played well on the back end. Bailey Howell and Shelby Vasich have been very aggressive as they are first and third on the team in shot attempts respectively. Sarah Steedman and Ashley Bornkamp play hard on both sides and are unselfish.
When asked what finally clicked for her class Steedman said, "this year, we are finally the upperclassman with two years under our belt. Two years of losses, hard fought wins, and a realization of what the college soccer level is really like."
The team's leading scorer and assister is sophomore midfielder, Jovana Sanchez. Last season she was named the South Atlantic Conference freshman of the year and second team All-Conference. This season the Hickory native has five goals and six assist. She will not pass up a shot and always finds a way to make defenders look silly trying to cover her. Steedman says, "Jo is a really solid player and super creative on the ball. She is a true team player and is always determined to bring out the best in the team."
Every good team has a great leader. That person for the women's soccer team is senior goalkeeper, Shelby Thompson. When asked about how she felt about being the leader, Thompson said, "I would say that my biggest reasonability as being a leader on this team is keeping the mentality and work ethic high. Seeing all the classes under me join this family through the years has amplified my desire to always give my best in everything I do. Leading by example is something that can slowly create an unbreakable mentality for anyone who is watching, and that is where I hold myself responsible."
The Charlotte native currently ranks fourth in saves in the South Atlantic conference with 53 on the season. She is also fourth in goals against average, only allowing 1.03 goals a contest. She says she credits her success to Head Coach, Nick Brown. "At the end of last season, he told me "you were a good goalkeeper this year, you did your job when you should have, but I think you can be a great goalkeeper." He encouraged me to believe that I can make the saves that aren't savable, or that I'm "not supposed to make," he said this because he saw my potential when I did not. I did not realize the limits that I had imposed on my own mind and physical ability until he opened my eyes to what I could do on the field, and how my actions could help to build this team to new heights."
Per Steedman, Coach Brown expects excellence from all his players. "If we ever have any doubt about if we are going to win, or if we have a chance to win, he is the first to tell us we have every bit of skill to win these games. He wants our team to show this conference that we deserve some respect for how good we are. He fights for us on the sideline whether that is guiding us through formation changes or arguing with the refs. He is constantly finding ways to encourage us, but also reminding us that this is a game and that we should be enjoying every moment that we are participating in this sport."
Catawba is looking to make noise in the conference tournament this year and there is no doubt in their minds that they can win the conference championship this year. Webb says, "many teams look at Catawba as another team they can beat. This year we have defeated that assumption."
The team has won a lot of tough, physical games this year. Players like Amber Hand, Maddie Peck, and Sanchez all have go ahead goals in tight games, but the team has also shown they can dominate opponents for 90 minutes. This includes teams in the conference. They beat Anderson, who was ranked second in the conference, at the time 3-0. They outshot Coker 22-6 in 5-0 win, and they handled Newberry in a 3-1 victory.  
Thompson says, "you could ask us to play any team in the conference, and our mentality would be the same; "NoDoubt. NoLimit." We have the mindset, skill level, and work ethic to win the tournament, we just have to go out and do it." Catawba could finish anywhere from second to fifth in the conference but as Thompson said, no matter who they end up playing in the tournament, the team feels like they can win.
catawbapioneerstaff