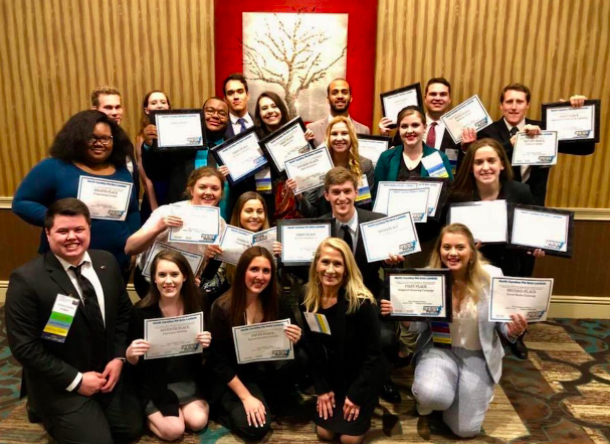 Phi Beta Lambda is currently accepting new members and they are looking for YOU! As a member of PBL, you will be able to take advantage of many exclusive opportunities, including eligibility to compete in state and national competitions, the opportunity to attend PBL Leadership Conferences, the opportunity to attend the annual tour of Charlotte with Catawba alum, Joey Popp, and many more exciting events that the officer team has planned for the year.
I am sure you are thinking, "this sounds great, but what exactly is PBL?" Well, I'm glad you asked! PBL-FBLA is a global business based student organization, with a whopping 250,000 members. Members of the organization are split into three categories. FBLA (Future Business Leaders of America), for middle and high school students, PBL, for college students, and lastly, the professional division, for adults who are FBLA-PBL alum or those who want to support younger members of the organization.
When asked why students should join PBL, co-advisor, Dr. Pam Thompson, said "PBL provides great opportunities for students to extend learning outside the classroom. Students can network and compete with students from other schools, large and small, from North Carolina and across the nation. Students also have the opportunity to volunteer and give back to the campus community and beyond."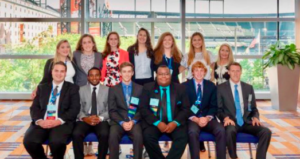 Most members would agree that the competitions are the most valuable part of being a member of PBL. As stated previously, competitions are held on both the state and the national level. You can compete in various subjects all the way from accounting to website design. "There is an event for everyone, regardless of your major," said Emily Najar, Catawba PBL Membership Outreach Coordinator and national first place recipient in the Social Media Challenge Event. Competitions are separated into two categories, tests and presentations.
This past summer, 12 students traveled to Baltimore, MD, for the National Leadership Conference, where they competed against students from across the nation. Students had the option to participate in up to two events and each was done in either small groups or individually. Of the 13 events that Catawba students participated in, nine placed in the top 10. Also five students ending up winning money for their presentations at nationals.
PBL alumni have agreed membership in the organization was helpful while at Catawba and in their professional endeavors. Jess Daniel, Catawba class of 2018, credits PBL for gaining an internship with Gerry Wood Honda. "I went to the interview and he saw that PBL was listed on my resume. Being a PBL alum himself, he knew the advantages of hiring a student involved in the organization. I was hired on the spot and I think that being a member of PBL was a major component of why I was offered the internship," said Daniel.
Catawba PBL is one of the largest student organizations on campus. Co-advisors include Dr. Pam Thompson and Professor Karen Gaskill. The 2018-2019 officers are Lukas Helbing, President; Ryen Reid, Vice-President; DaQunda Magwood, Secretary; Blake Pierce; Treasurer; Emily Najar, Membership Outreach Coordinator. For more information about PBL, or to join, contact an advisor or any member of the officer team.
Written by Blake Pierce
Blake Pierce